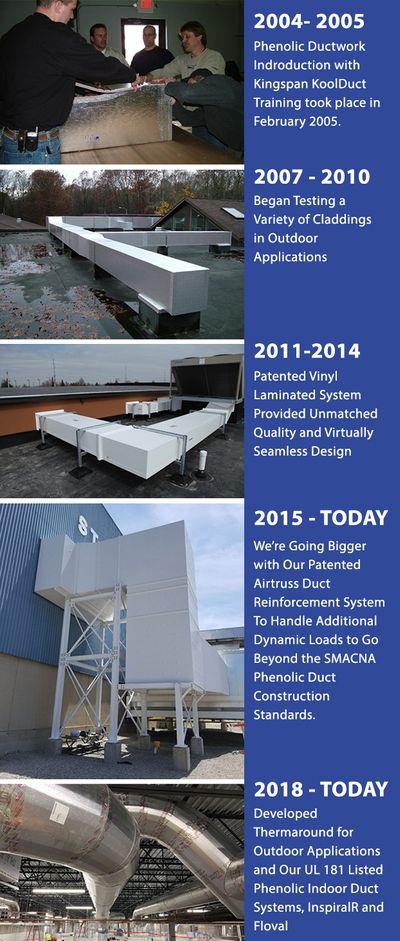 Our Story - Over 15 Years of Phenolic Duct Experience
Our story began in 2004 when we were first introduced to KoolDuct. We saw the benefits of this lightweight sheet metal duct alternative and began to re-center our shop around this technology as it entered the United States. The lower air leakage and consistently higher R-values allowed us to offer our customers a better duct solution.
By 2009, we were helping other contractors bring this technology into their facilities and growing the pre-insulated duct market with others who also saw the benefits of KoolDuct. As we grew our focus remained the same: a continued push for HVAC energy efficiency.
In 2011, our developments in bringing phenolic outdoors with a variety of claddings led us to our factory laminated vinyl solution, Thermaduct. By permanently bonding our 1000 micron vinyl clad to our KoolDuct panel, we were able to create a stronger solution that gave many benefits for outdoor applications compared to pressure applied claddings. With our patented process, we are able to thermally bend up to 3 corners with no seam and use solvent welds on the final seam. This eliminates areas of water intrusion and provides a better solution for outdoor applications.
Since that time, we've only made our product better with our patented reinforcement system that goes beyond what the SMACNA Phenolic Duct Construction standards require. We've also developed round and flat oval solutions for both outdoor and indoor applications, all offering the same high R-values and low air leakage. With over 15 years of experience behind us, Thermaduct is proud to offer our line of high efficiency air distribution products to customers across the US and Canada.
About Us
Thermaduct LLC, headquartered in Perrysburg Ohio, is the pioneer of pre-engineered and pre-insulated high efficiency ducting systems. Seeing historic issues with exposed air distribution systems, our engineers have designed and manufactured a pre-insulated ducting solutions for both indoor and outdoor applications.
Providing high R-values and low air leakage, the Thermaduct™ systems cuts down on energy costs by eliminating the factors that attribute to energy loss in ducting applications. This superior high efficiency air distribution system is constructed to the highest fabrication standards by Thermaduct™ trained members of the Sheet Metal Workers International Union.
High quality products from highly skilled workers will ensure your outdoor project exceeds the client's expectations with a weather resilient and energy efficient HVAC system with Thermaduct™ and Thermaround™, and continues the efficiency indoors with InspiralR™ and Floval™ duct systems.
The Thermaduct™ Advantage
By choosing Thermaduct™ for your next project, you can expect:
Durability

Thermaduct™ and Thermaround™ are made of rigid phenolic duct fortified with a 1000 micron, titanium infused vinyl cladding. Seams are solvent welded, for an airtight design.

InspiralR™ and Floval™ are made with the same high quality, closed cell phenolic duct panels and formed into round and flat oval duct systems with our patent pending methods. Both systems are UL 181 listed for 10" positive and 8" negative pressures.

Energy Saving

Patented construction process keeps air from leaking out. The air you pay to heat or cool will be the air that reaches your destination! All Thermaduct systems are class 1 systems.

High Insulated Values (R-value)

Thermaduct™ is available in a variety of insulated values ranging from R-8 all the way up to R-24. Thermaround™ is available in an R-12 insulated value. InspiralR™ and Floval™ both provide an R-6 insulated value.

Union Made

Constructed and manufactured by highly trained members of the Sheet Metal Workers International Union.

Warranty

Thermaduct™ products come with a 10 year limited warranty. For more information, talk to a Thermaduct™ representative.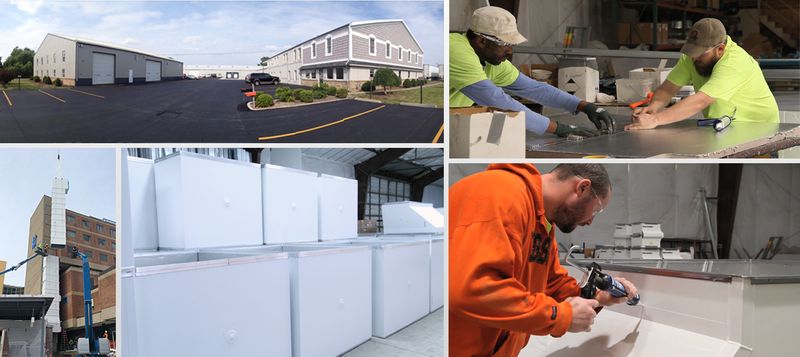 As energy codes push the required insulation values higher and higher, the need for better outdoor duct solutions is growing. Thermaduct products are designed to meet the needs of outdoor applications with a high level of energy and installation efficiency.

Low air leakage, IAQ duct solutions increase the energy efficiency and health of your building. Thermaduct is here to help. Our indoor products are lightweight solutions that reduce installation weight by over 70%.