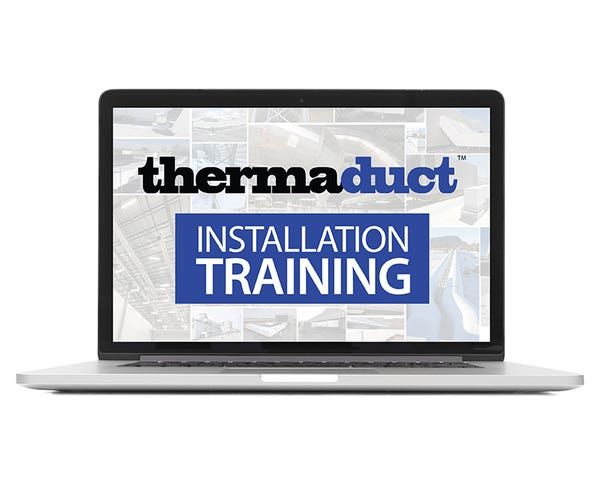 Installing Thermaduct™ in your Application
Thermaduct insulated duct systems are designed to benefit not just the building owner, but also those who install these systems both indoors and out. While we have a detailed Installation Manual available from our Thermaduct Representatives, installers will also find it beneficial to take our online training courses available by visiting our installer training site.
Installation is Easy - Connection Training
You can rest easy knowing you'll find a 4-bolt connection system typical of traditional rectangular ductwork or an easy to use coupling system for round or flat oval applications. What's uncommon about Thermaduct products is the steps we take to ensure customers receive an air tight system that also eliminates as many areas for water intrusion as possible.

Outdoor Rectangular

Outdoor Round

Indoor Round & Flat Oval
Thermaduct is designed to be familiar to HVAC Contractors. Our outdoor rectangular system uses a gasketed 4-bolt connection system so that no special training is necessary. This video covers connections and our covering system. If you have more questions about our exterior rooftop duct system, please visit www.thermaduct.com for the latest information.
Thermaround is our patented round solution for exterior applications. This high R-value system offers an R-12 solution with extremely low air leakage. Thermaround uses the same UV stable 1000 micron vinyl cladding for a durable solution that will naturally shed water. In the interior, air passes over a smooth aluminum surface free from loose fibers to give your building better IAQ performance. Vertical Connections May Require Additional Sealant. For more information, visit www.thermaduct.com/products
Thermaduct's InspiralR and Floval pre-insulated duct systems give high insulated values and near zero air leakage for spiral and flat oval double wall applications. Lightweight and easy to install, these round ductwork systems are designed to give you high efficiency air distribution. Find out more at www.thermaduct.com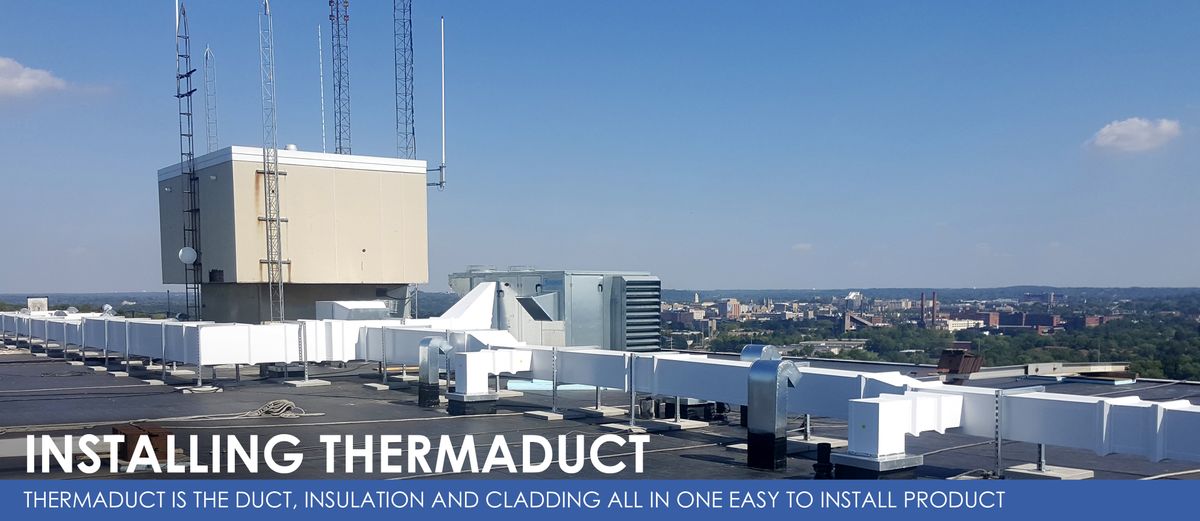 Request a Contractor's Installation Manual
For an installation that follows our guidelines, Thermaduct is also proud to offer a 10 year limited warranty. For more information or to receive a copy of the Thermaduct installation Manual, fill out the form below.

As energy codes push the required insulation values higher and higher, the need for better outdoor duct solutions is growing. Thermaduct products are designed to meet the needs of outdoor applications with a high level of energy and installation efficiency.

Low air leakage, IAQ duct solutions increase the energy efficiency and health of your building. Thermaduct is here to help. Our indoor products are lightweight solutions that reduce installation weight by over 70%.