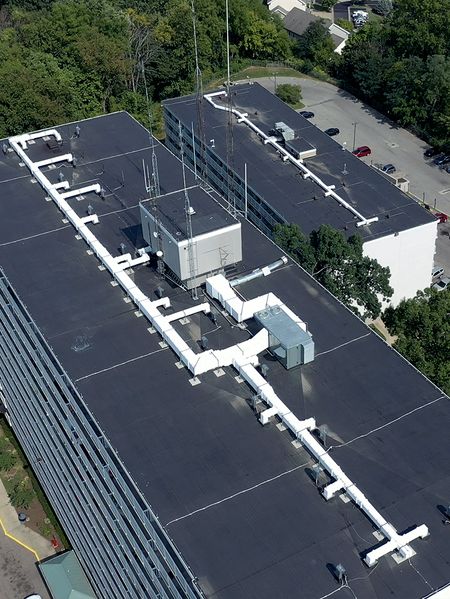 High Efficiency Preinsulated Ductwork Designed For the Elements
Thermaduct is your duct, insulation and cladding all in one high efficiency duct system. With some of the highest R-value and lowest air leakage rates in the industry Thermaduct is SMACNA Phenolic Duct Construction Standard compliant duct system that provides a long term solution backed by a 10 Year Limited Warranty. Our patented factory-laminated vinyl cladding system provides a strong, virtually seamless surface that eliminates areas for water intrusion. Up to 3 corners of our 1000 micron vinyl cladding can be thermally bent with no seam and the final corner is solvent welded for water tight protection. This cladding protects our premium KoolDuct interior closed cell phenolic insulation.
Thermaduct™ offers industry solutions to outdoor ductwork that exceed the ASHRAE and ICC Energy Codes present today and those 10 years from now. Our outdoor ductwork is available in the following insulation values.
R-8.1 (1x 1 3/16" Panel)
R-12 (1 x 1 3/4" Panel)
R-16.2 (2 x 1 3/16" Panel)
R-20 (1 x 1 3/4" Panel, 1 x 1 3/16" Panel)
R-24 (2 x 1 3/4 Panel)
How is Thermaduct Different?
Historically, outdoor ductwork has been a point of failure in applications across the country. Cladding issues, poor insulation value, corrosion and leakage all play a part in duct failures on rooftops and exterior installations. These are issues we sought to correct with Thermaduct and Thermaround.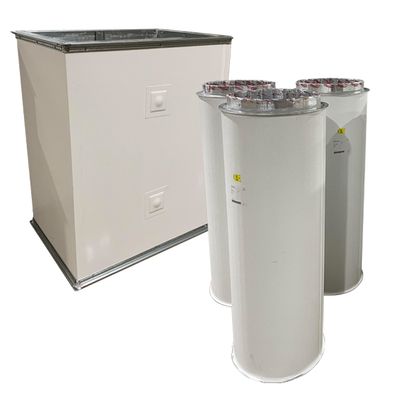 Virtually Seamless Vinyl Cladding
Impact Resistant Cladding That Eliminate Areas of Water Intrusion
Where pittsburgh and snap lock seams create areas for water intrusion, Thermaduct's factory laminated vinyl cladding allows for thermally formed or solvent welded corners for a true water-resistant exterior. Because our cladding is permanently vacuum laminated to our KoolDuct panel, installing Thermaduct requires no field installation of pressure applied cladding tapes, screws or adhesives to assemble pieces. With better material integrity, Thermaduct is a longer lasting exterior product!
Thermaduct™ is available in 3 select colors. These have been carefully tested for UV Stability, Durability, Heat Buildup, Heat Deflection and Low Thermal Transfer. This 1000 micron cladding is up to 5 times thicker than competitor's outer protection and is formed with our patented processes. If you would like to compare our Tan and Gray vinyl to our standard White, ask your local Thermaduct™ Representative for a sample of our vinyl selections today!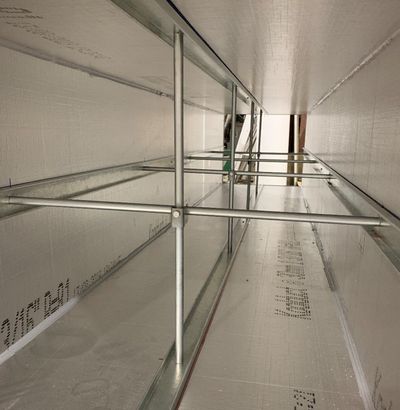 Strong Connections and Patented Reinforcement System
Structural Flange and Reinforcement System Give Thermaduct a Backbone That Other Systems Don't Have
Thermaduct's structural 4-bolt flange is part of our patented Airtruss reinforcement system.  By connecting our system from flange to flange, this allows us comply with the SMACNA Phenolic Duct Construction Standards as our starting point and use our patented system to go beyond it up to 10" w.c. positive and negative.  For vertical applications this gives a consistent metal structure from top to bottom for contractors to tie into for supports.
Contractors will feel right at home with this gasketed 4-bolt connection system. To achieve a connection capable of reaching a class 1 leakage rate, the simply connect sections together and add a layer of insulation before applying a weather resistant covering that allows for additional dead air space. Watch our installation video to see for yourself the Thermaduct advantage!
With insulated panels, reaching higher static pressures requires additional duct stiffeners and discs to support panels in different pressure classes. Because outdoor applications are subjected to more dynamic loads than indoor systems, such as snow, wind and rain, Thermaduct's Airtruss Reinforcement was designed to comply with, but goes beyond the maximum SMACNA designs by implementing our patented reinforcement system directly into the structural flange.
This allows us to create larger duct sections with the proper structure to stand the test of time and do so without exposing important support structure to external elements and corrosion.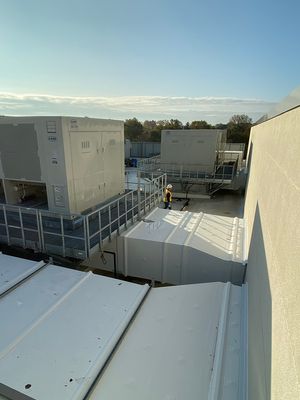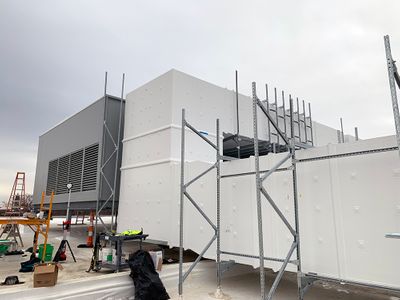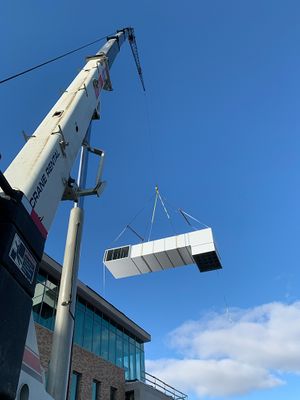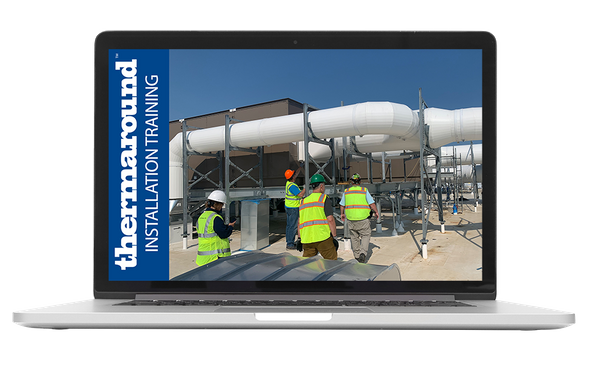 See How Thermaduct Products Install in the Field
While our products will feel very familiar to traditional ductwork, we have a brief online training course to cover the differences that should be observed when installing an outdoor phenolic duct system.
Fiber Free Phenolic Insulation with Smooth Aluminum Interior Surface
Kingspan KoolDuct Interior Insulation Provides High R-Values
Whether you are using our standard Kingspan KoolDuct aluminum interior or one of our lining options, Thermaduct's interior insulation is a >90% closed cell phenolic insulation that allows us to have a greater R-value with less insulation thickness.  With a higher closed cell content, less insulation thickness is required to meet the same R-value and it is more resistant to water intrusion. Pair that with Thermaduct's strong outer cladding and you have a ductwork designed for the elements.
Kingspan KoolDuct is a UL 181 listed phenolic that has excellent flame and smoke spread performance. See for yourself!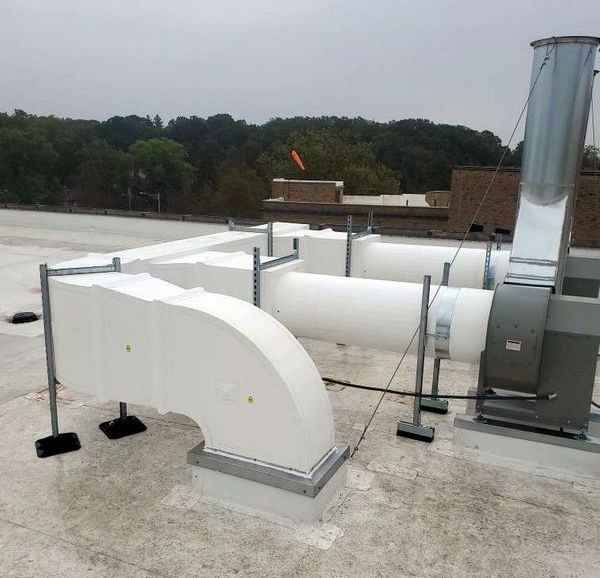 Pair Easily with Thermaround Outdoor Round Ductwork
Thermaduct and Thermaround both provide a factory laminated surface with a minimal areas of water intrusion. Applications that require both round and rectangular ductwork will find no better exterior ductwork solution than both of our outdoor products.
These systems provide near zero air leakage and virtually eliminate areas of water intrusion. Both systems install easily, with Thermaround requiring installing contractors to apply sealant, connect sections together with an offset coupling and use a draw band connection for fast and easy installation. Thermaduct uses a gasketed 4-bolt connection with a weather resistant covering.
Find the best fit for your application with weather resistant Thermaduct and Thermaround outdoor ductwork!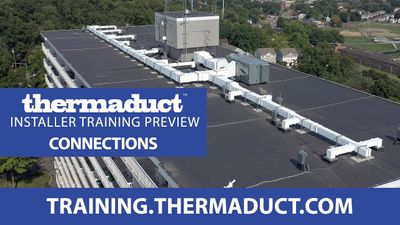 Thermaduct Installation Training - Connection Preview | training.thermaduct.com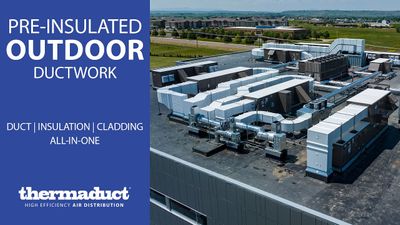 Insulated Outdoor Ductwork Installation - Thermaduct Pre-Insulated Exterior Duct System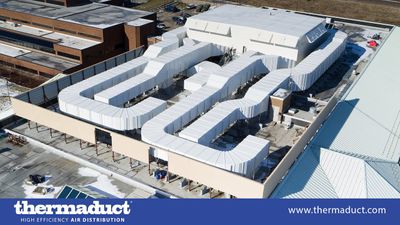 Outdoor Ductwork - Thermaduct Pre-Insulated Exterior Duct System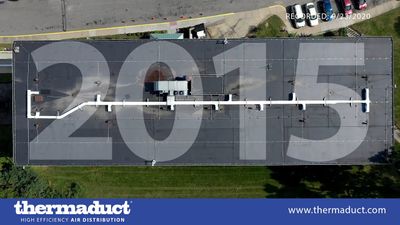 Thermaduct 5 Year Old Installation Revisit - 2015/2016 Apartment Rooftop Ductwork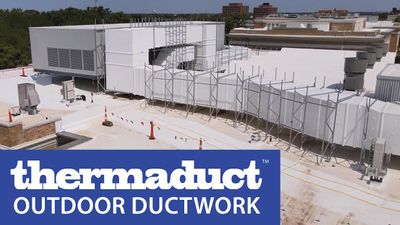 Thermaduct Rooftop Ductwork - Pre-insulated Phenolic Duct System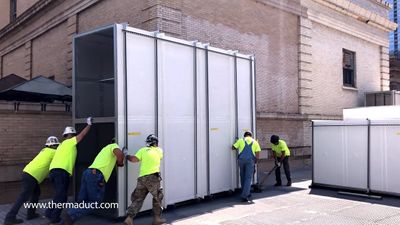 Thermaduct Pre-Insulated Rectangular Outdoor Rooftop Ductwork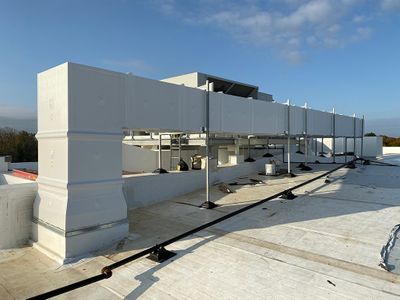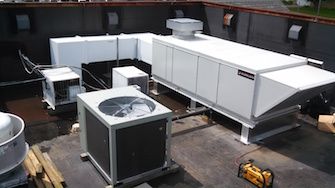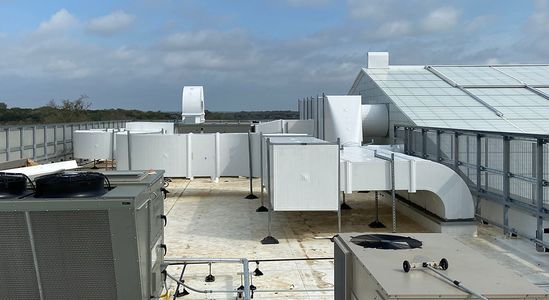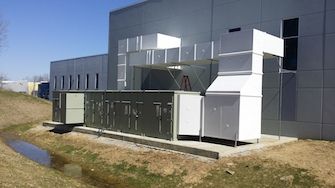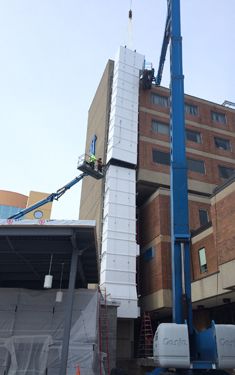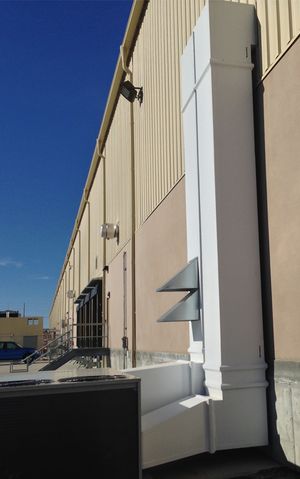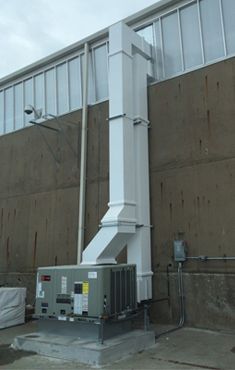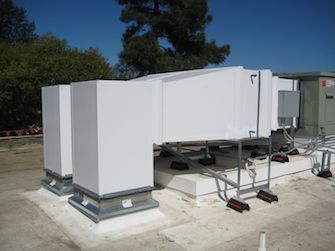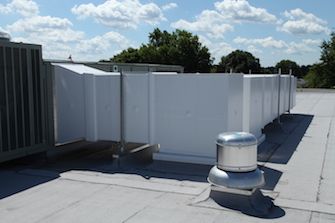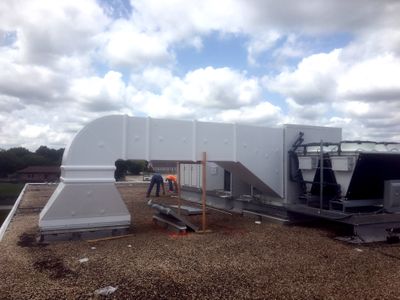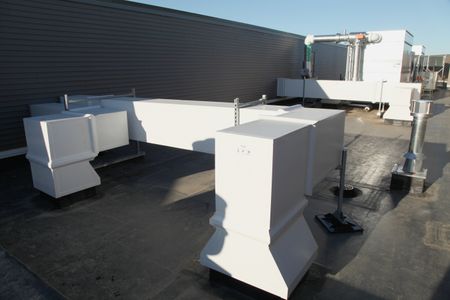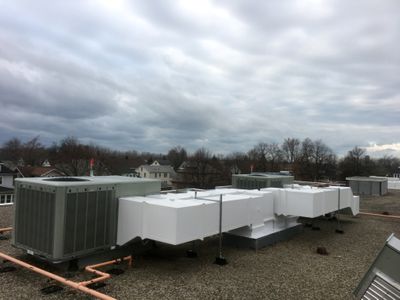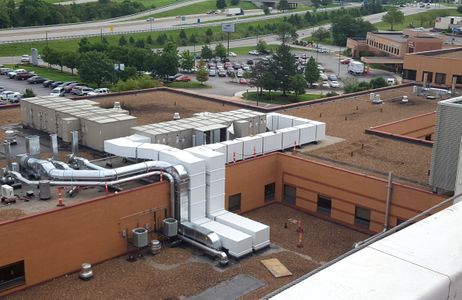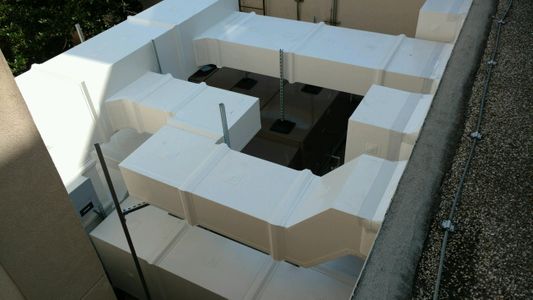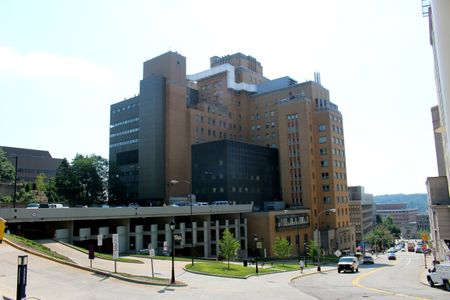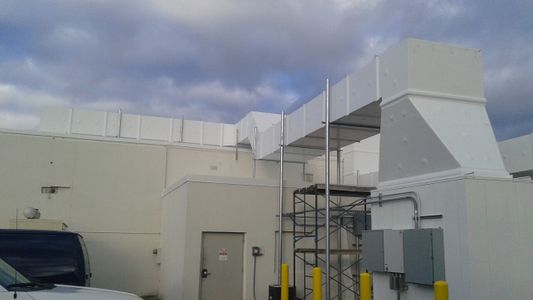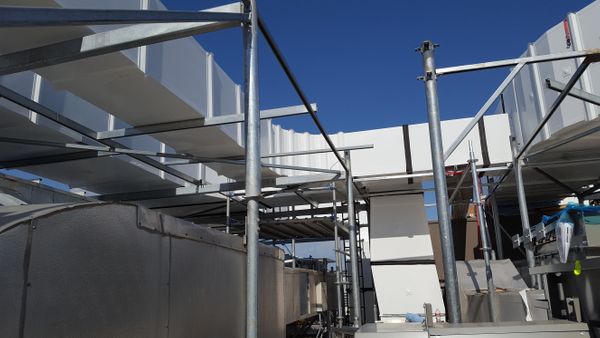 Product Features
UL 181 Listed KoolDuct Liner
Passes the UL181 Mold Growth Test
Closed Cell Insulation
Highest R-Value Selections
Proven Low Air Leakage
10 Year Limited Warranty*
UV Stable, 1,000 Micron Vinyl Cladding
Optional Interior Duct Options
Built in the USA
Union Made
SMACNA Phenolic Duct Construction Standard Compliant
Thermaduct is built by SMACNA Phenolic Duct Construction Standard guidelines. We use our patented reinforcement system, Airtruss, to comply with and go beyond what the SMACNA Phenolic Duct Construction Standards require.
Compliance/Testing:
Thermaduct™ is comprised of a Kingspan KoolDuct fortified cladded duct system in accordance with requirements of factory-made air ducts. Thermaduct™ is specifically designed for use in outdoor applications where adverse weather conditions will occur. Thermaduct™ incorporates the following standards:
UL 723, UL 181, 90A, 90B Interior;
ASTM D-638, ASTM D790, ASTM D-256, ASTM D-4226, ASTM D-4216, ASTM D-792, ASTM D-2240, ASTM D-696, ASTM D-648, UL-94 Exterior Cladding
Frictional Properties:
Thermaduct™ is a factory assembled air distribution system that employs a smooth aluminum surface that has frictional characteristics, much like that of galvanized sheet metal. As a result, the frictional pressure drop data for galvanized sheet metal ductwork can be applied when designing and specifying Thermaduct™ air distribution systems.
Operating Recommendation:
It is recommended that the application of Thermaduct™ supplied be utilized for operation as a supply, return, fresh air and exhaust air ductwork applications for heating, ventilation, and air conditioning applications.
| | |
| --- | --- |
| Air Velocity (Maximum) | 6000 fpm / 30.48 m/s |
| Design Pressure (Maximum) | Positive and Negative 10 / 2500 Pa (Proper reinforcement required) |
| Temperature | Internal; Continuous -15°F to +185°F |
| Size Limitations | None |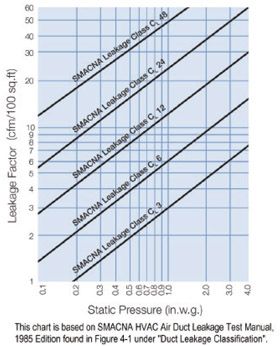 Thermaduct™ is designed to be a SMACNA Air-Leakage Class 1 duct with the Thermaduct™ connection system at certain pressure classes.
By combining two layers of an autohesively bonded aluminum foil vapor barrier to the inner and outer closed cell Kooltherm insulation core, all protected with 1000 micron UV stable vinyl clad with welded or cohesively bonded seams, you simply can't find a more air or water-tight outdoor duct system anywhere.
Fill out the form to contact us today
Thermaduct Product Information
Find A Representative
We work with a fantastic group of representatives all over the country. Find your the local Thermaduct representative in your area here.