High Efficiency Air Distribution
Thermaduct™ offers a family of air distribution products designed to increase the efficiency of not only the application itself, but of those installing the duct systems. All of our lightweight duct systems are pre-insulated and require no additional insulation wrap.
Thermaduct - Outdoor Rectangular Ductwork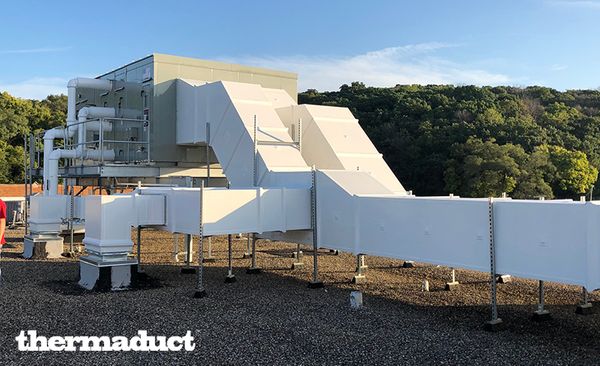 Thermaduct Outdoor Rectangular Ductwork
Exterior Rooftop Duct
Duct, Insulation, and Cladding All In One
Thermaduct is our patented rectangular exterior ducting solution that offers high R-values and low air leakage. It provides the duct, the insulation and cladding all in one high performance product. Thermaduct is available in insulated values between R-8 and R-24 and offers extremely low air leakage. All these benefits are protected by a strong, UV stable 1000 micron vinyl cladding and built to meet or exceed the SMACNA Phenolic Duct Construction Standards.
R8 Through R24
1000 Micron, UV Stable Vinyl Cladding
Closed Cell Insulation
Near Zero Air Leakage
Lightweight
10 Year Limited Warranty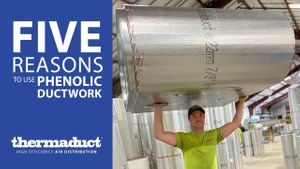 5 Reasons to Use Phenolic Pre-Insulated Ductwork
Thermaduct Installation Instructions Video - Preinsulated Outdoor Ductwork System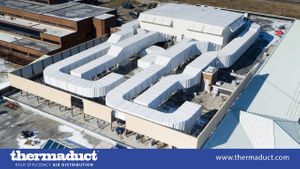 Outdoor Ductwork - Thermaduct Pre-Insulated Exterior Duct System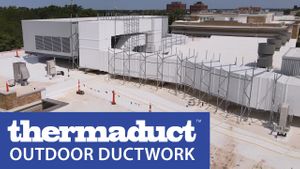 Thermaduct Rooftop Ductwork - Pre-insulated Phenolic Duct System
Ductwork Designed for the Elements
Thermaduct has a long history of success in solving headaches associated with rooftop ductwork. For more information on how you can use this system in your installation, please visit our dedicated page.
Thermaround - Outdoor Round Ductwork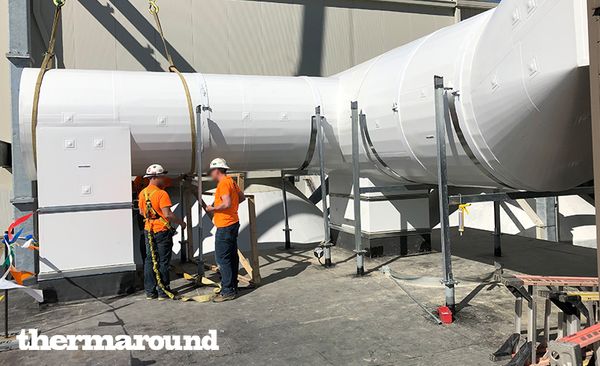 Thermaduct Thermaround Outdoor Ductwork
Pre-Insulated Exterior Rooftop Ductwork
Vinyl Laminated Cladding - Duct, Insulation, and Cladding All In One
Thermaround is our patented round solution for exterior applications. This high R-value system offers an R-12 solution with extremely low air leakage. Thermaround uses the same UV stable 1000 micron vinyl cladding for a durable solution that will naturally shed water. In the interior, air passes over a smooth aluminum surface free from loose fibers to give your building better IAQ performance.
R12 Insulated Value
Naturally Sheds Water
1000 Micron, UV Stable Vinyl Cladding
Closed Cell Insulation
Lightweight
Near Zero Air Leakage
10 Year Limited Warranty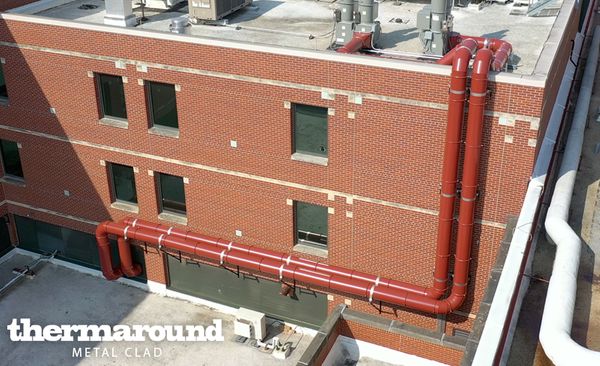 Thermaround Metal Cladded System for Interior or Exterior Applications
Kynar Finished Ductwork with 24 Colors
*NEW!* METAL CLADDING - Designed for Aesthetics, Engineered for Performance
For applications where aesthetics play a key role in building design, we've expanded our ductwork range to offer a high performing solution with architects in mind. HVAC design can plays a large role in the aesthetics of an application, Thermaround is proud to offer a high quality metal cladded version of our Thermaround product with multiple finishes, including Kynar coated steel or aluminum.
R12 Insulated Value with Closed Cell Insulation
Kynar Finished Metal Exterior
Naturally Sheds Water
Flanged Connections for Fast Installation
Lightweight
Indoor and Outdoor Use
10 Year Limited Warranty
Thermaround Installation Instructions - Connections
Thermaround Exterior Ductwork at Medical Production Facility - Virtually Seamless Spiral Alternative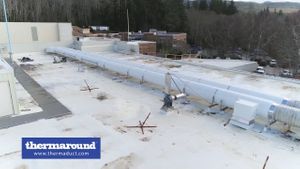 Thermaround Corrosion Resistant Rooftop Ductwork - Coastal Hospital Pre-Insulated Outdoor Duct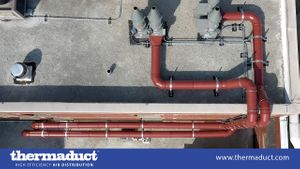 Thermaround Hospital Ductwork - Metal Cladding Option for Color Matching Applications
High Efficiency Round Exterior Ductwork
The quality of Thermaduct pre-insulated ductwork with the added efficiency of round ductwork. For more Information on Thermaround, please visit our dedicated page.
InspiralR & Floval - Indoor Round & Flat Oval Ductwork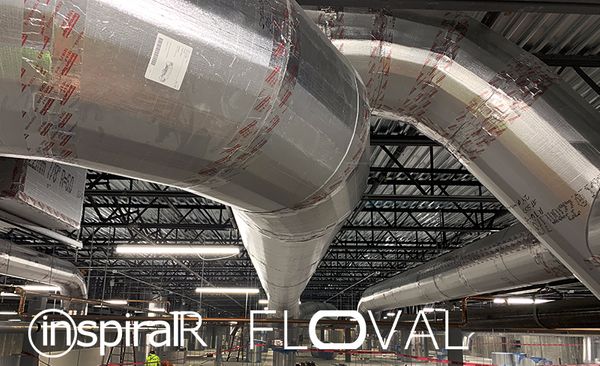 InspiralR Floval Preinsulated Round and Flat Oval
Insulated Double Wall Ductwork Alternative
Lightweight Pre-Insulated Ductwork
InspiralR and Floval are our patent pending indoor round and flat oval solutions that are UL 181 Listed for 10" w.c. positive and 8" w.c. negative applications. InspiralR and Floval are lightweight systems and can offer up to a 75% weight savings versus traditional double wall spiral duct. This ultra low air leakage system also provides an R-6 insulated value. Tight on ceiling space? Floval is your solution as there's no need to insulate separately!
UL 181 Listed Round Duct System
Near Zero Air Leakage
Pre-Insulated R-6 Installed Value
Lightweight Duct System - Up to 75% Lighter than Doublewall
10 Year Limited Warranty
InspiralR and Floval Videos
Ease of Installation - Thermaduct InspiralR and Floval Pre-Insulated Spiral and Flat Oval Ductwork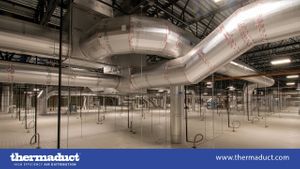 Thermaduct InspiralR Round Pre-Insulated Ductwork - Spiral Duct with Kingspan KoolDuct Interior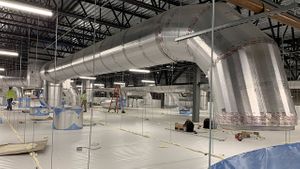 Thermaduct InspiralR Pre-Insulated Double Wall Spiral Duct System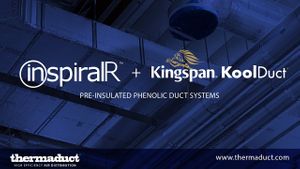 Pre-Insulated Phenolic Ductwork - Thermaduct's InspiralR + Kingspan KoolDuct
High Efficiency Indoor Products
For more Information on how InspiralR and Floval can help your next application have high efficiency air distribution, please visit our dedicated page.

Pre-Insulated Phenolic Ductwork Applications
All of our duct systems employ a smooth aluminum Kingspan KoolDuct interior for a high quality, fiber free insulation. Because of this, Thermaduct, Thermaround, InspiralR, and Floval are great for almost any application.
Hospitals and Healthcare Environments
Hotels and Multifamily Structures
Commercial and Industrial Applications
Products That Offer More for Customers
High R-Values
Low thermal transfer keeps conditioned air at the desired temperatures
Low Air Leakage
Virtually airtight connections deliver more of the conditioned air to their destination
Easy to Install
Lightweight Systems designed to increase efficiency on the jobsite. Do more with less!
Fewer Call Backs
Worry less as Thermaduct products are backed by a 10 year limited warranty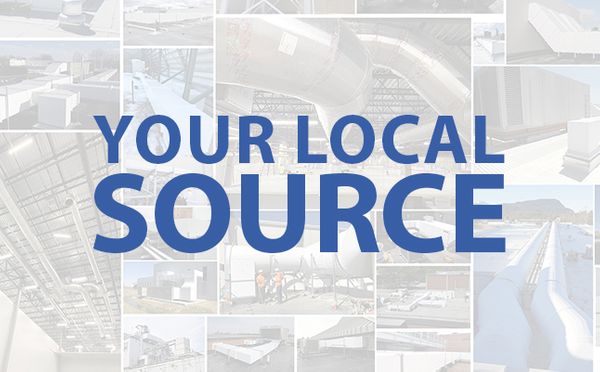 Find A Representative
We work with a fantastic group of representatives all over the country. Find your the local Thermaduct representative in your area here.