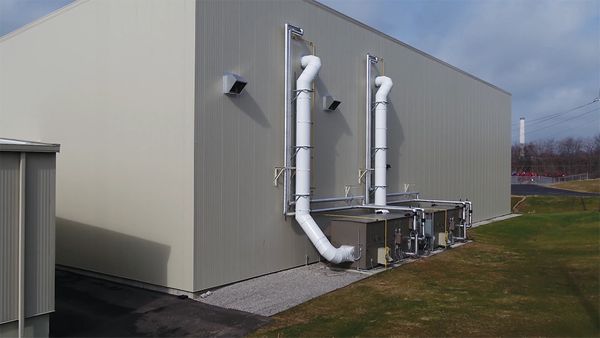 The Advantages of Using Thermaduct AND THERMAROUND FOR Your Exterior Ductwork
Thermaduct offers pre-engineered, high efficiency duct systems that incorporates the duct, insulation and cladding all in one high performance product. Our rectangular duct system is available in a variety of thicknesses that supply R-8 through R-24 insulation value, while our round outdoor ductwork is available in R12. While other manufacturer's systems use tapes, adhesives and screws, which experience degradation over time, Thermaduct uses a patented heat or chemical welded seam to ensure the highest resistance to water intrusion and unmatched air integrity.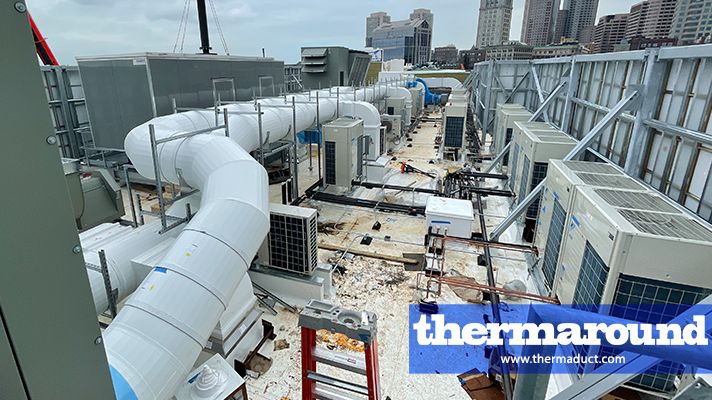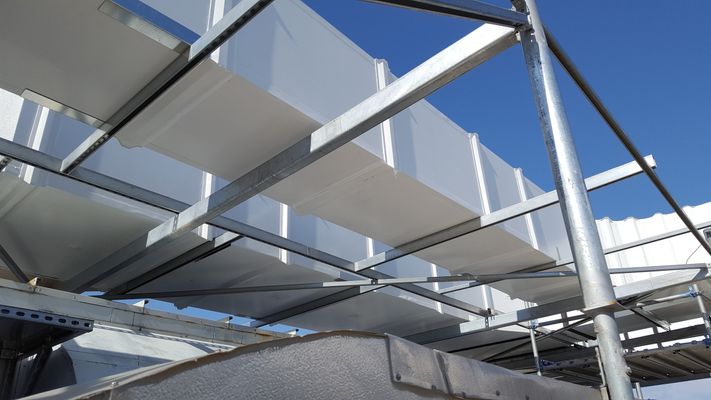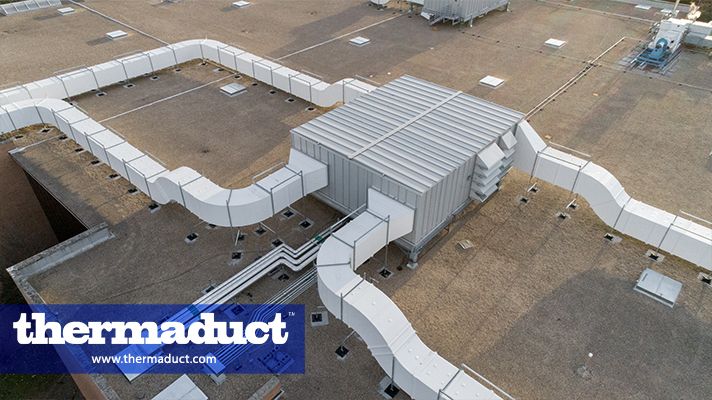 Weather Resistant 1000 Micron vinyl Cladding
Rectangular Thermaduct's 1000 micron vinyl cladding is fully vacuum laminated to the panel. This provides a highly impact resistant cladding that is up to 5 times thicker than what is traditionally used to clad outdoor ductwork and allows for our patented heat formed corners or cohesively bonded with a solvent weld.
Thermaround applications utilize this same patented, factory laminated 1000 micron vinyl cladding to provide a continuous cladded surface with as few as one solvent welded seam for outdoor round ductwork. Worry less as both Thermaduct and Thermaround are your very best options to keep your conditioned air in and the outdoor elements out!
No Exposed Screws or Fasteners
Thermaduct and Thermaround provide an uncompromised surface that preserves the integrity of the product and prevent areas where water can intrude. With our rectangular ductwork, special care is taken to protect all connections from the elements. With Thermaround, you'll find no better outdoor duct as the natural strength of the round shape naturally sheds water!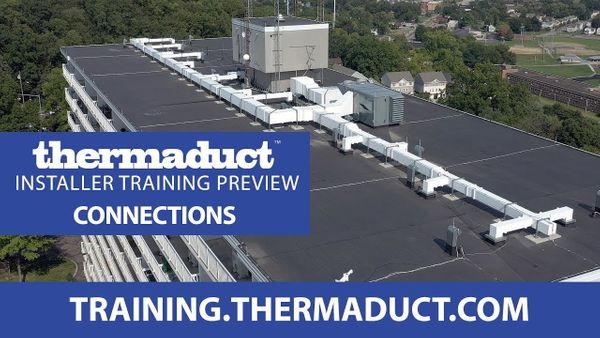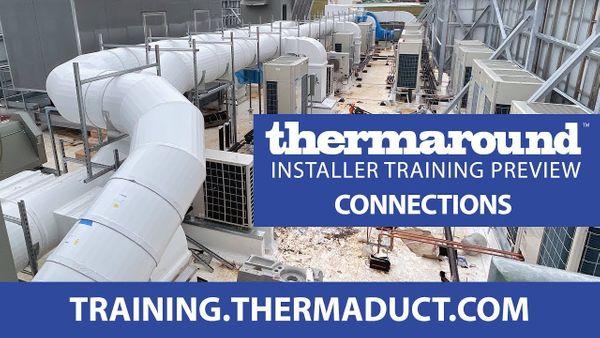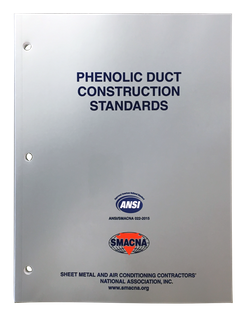 SMACNA Phenolic Duct Construction Standard Compliant Ductwork
The 2015 published SMACNA Phenolic Duct Construction Standards are the basis for everything we do here at Thermaduct. Construction practices from those guidelines along with our patented outdoor reinforcement system, Airtruss, allows us to comply with and go beyond what the SMACNA Phenolic Duct Construction Standards have designed all the way up to 10" positive and negative static pressures. Find out more about our system here.
Exceptional Product Durability
With Thermaduct and Thermaround, you get the best possible exterior protection for your ductwork. Thermaduct's patented Airtruss Reinforcement System and use of UV stable vinyl gives our ductwork exceptional integrity over its long lifespan. We don't just design for the load of the system but dynamic loads of snow, wind and ice that are experienced in outdoor applications.
High Quality Phenolic Insulation
We use premium Kingspan KoolDuct with a >90% closed cell content in all of our products. This phenolic insulation is UL 181 listed and has exceptional fire and smoke performance. Pairing the very best insulation material with our patented fabrication methods allow us to provide a substantial weight savings on applications with KoolDuct's lightweight rigid material.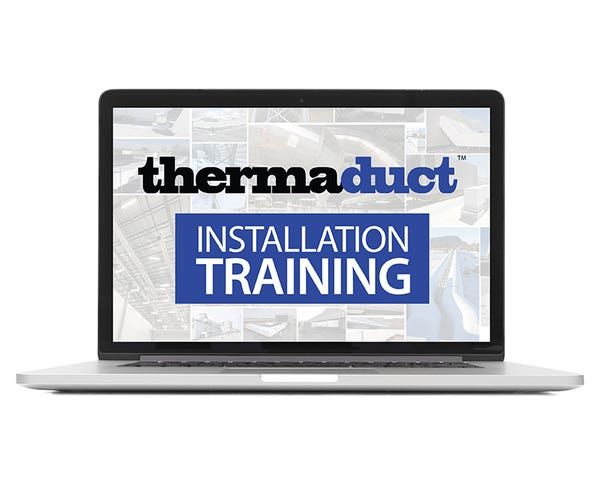 ONLINE TRAINING AND 10 Year Limited Warranty
We try to keep Thermaduct and Thermaround installation as familiar as possible to traditional ductwork. For those minor differences, we have online training available to help installers get off on the right foot! Once installed properly, our outdoor systems are built to last and both proudly backed by a 10 year limited warranty.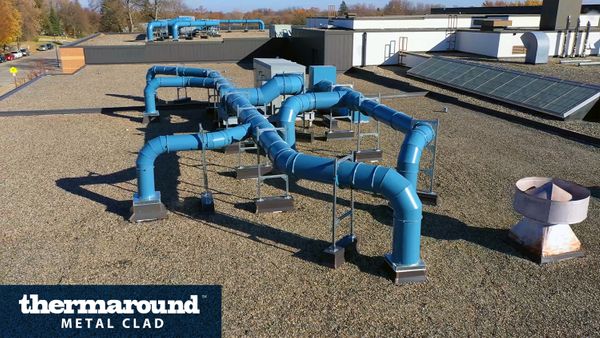 Multiple Cladding Options - Thermaround
Some outdoor applications need a specific look. Thermaround Metal Clad offers the same high R-value, low leakage performance as standard vinyl cladded Thermaround but with a single seam architectural cladding. Available in multiple finishes, this outdoor solution is designed for aesthetics but engineered to perform!
Thermaduct Product Guide Specifications

Phenolic is a high performing alternative duct material that helps HVAC Contractors increase the thermal and duct leakage efficiency of their systems. Whether you're looking for indoor or outdoor solutions, learn more about how phenolic systems can benefit your application!

Low air leakage, IAQ duct solutions increase the energy efficiency and health of your building. Thermaduct is here to help. Our indoor products are lightweight solutions that reduce installation weight by over 70%.
Find Out More
Connect with a Thermaduct Representative or Contact Us to learn how Thermaduct and Thermaround can provide high efficiency air distribution for your next outdoor duct project.