Outdoor Duct Solved
Thermaduct™ is a pre-engineered duct system that incorporates the duct, insulation and cladding all in one high performance product.
The duct system is available in a variety of thicknesses that supply R-8 through R-24 insulation value. While other manufacturers use tapes, adhesives and screws, which experience degradation over time, Thermaduct™ uses a patented heat or chemical welded seam to ensure impervious water and air integrity.
We recognize the growing demand from owners for energy efficiency. Managing a building's HVAC system's energy use offers a number of challenges including the HVAC equipment itself, the system control and the "grid" or distribution of that energy.
Thermaduct™ uses high quality, closed cell phenolic to create some of the highest R-values available on the market today. Pair this with a 1000 micron Vinyl cladding and Thermaduct™ truly is the last line of defense between your insulation values and the outdoor elements.
By choosing Thermaduct™ for your next project, you can expect high quality products from highly skilled workers that ensure your project exceeds the client's expectations with a weather resilient and energy efficient HVAC system.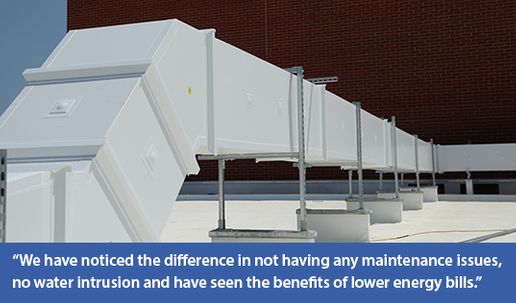 Superior Outdoor Air Distribution
There is simply no duct like it in the world. Thermaduct™ combines the best of air distribution technology with choice outdoor weather barrier to create a duct that offers the highest R value and lowest air leakage rates in the industry. Unsurpassed performance was the goal to create a duct that can not only deliver every cubic foot of air it is fed, but to treat the air with the utmost respect by not exposing it to fibrous or volatile organic chemical latent liners. Indoor, the air passes a smooth aluminum surface that is clad to Kingspan's Kooltherm closed cell rigid thermoset resin insulated core. The outer layers include factory autohesively bonded FSK aluminum with a UV stable, 39 mil, titanium infused vinyl that is vacuum pressed and laminated permanently to Kingspan KoolDuct. Air distribution segments are connected together with either 4-bolt flange, aluminum channels OR cohesively bonded vinyl couplings. Once installed, all seams are sealed completely for uncompromising integrity and one of the best outdoor duct warranties in the industry. Thermaduct System Overview - Outdoor/Exterior Ductwork
Learn how choosing the right outdoor HVAC ductwork can solve many of the issues experienced by traditional metal duct. Manufacturing Thermaduct - Large Outdoor Duct Fabrication Timelapse
2017 Fabrication of exposed exterior ductwork. Learn more at www.thermaduct.com
Thermaduct™
Thermaduct™ Outdoor Ductwork Solution will provide you with the highest quality outdoor air distribution you can get! UL 181 Listed KoolDuct Liner
Passes the UL181 Mold Growth Test
Closed Cell Insulation
Highest R- Value Selections
Proven Low Air Leakage
Built in the USA. For your outdoor ductwork, the right products can make all the difference. Choose Thermaduct™ for your next project!