High Efficiency Air Distribution For Indoor and Outdoor Applications
We believe that high efficiency should not stop at your HVAC equipment, but rather should encompass the entire management of energy through intelligent controls and efficient air distribution. We offer a more efficient air distribution system, promoted by employing fiber free Kingspan KoolDuct. With higher thermal values and lower air leakage than traditional air distribution systems, you'll notice a difference with Thermaduct ductwork products for your indoor and outdoor applications.
Outdoor
Ductwork Designed for the Elements
Indoor
Lightweight, Low Leakage Solutions
Featured Project
Missouri Pharmaceutical Installation Employs Thermaround In Place of Stainless Steel Double Wall Ductwork.
Read more about the application here: Read More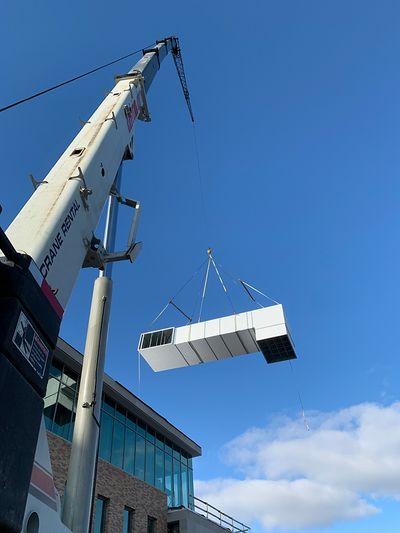 Superior Air Distribution
Our family of innovative, pre-insulated duct systems that support just about any application. All of our products use the highest quality closed cell phenolic to give customers the best insulation value without taking up valuable interior or exterior space. By ordering a Thermaduct product, you can be confident that you'll receive a lightweight, low air leakage and high R-value product that is backed by a 10 year limited warranty.
Thermaduct is committed to bringing the very best air distribution technology in the industry to our customers. Unsurpassed performance was our goal: to create duct systems that can not only deliver every cubic foot of air it is fed, but to treat the air with the utmost respect by not exposing it to fibrous or volatile organic chemical latent liners.
With all of our pre-insulated systems, air passes over the smooth aluminum surface of Kingspan KoolDuct's closed cell phenolic panels, with a variety of additional lining options should an application require it.