Lowering Carbon Footprints - How Pharmaceutical Facility achieved low carbon HVAC System with Thermaound
In 2022, Thermaround played a role in helping a Massachusetts pharmaceutical production facility lower its carbon footprint and increase the energy efficiency of their building. Over 8000 square feet of our outdoor round ductwork was utilized to give the application's HVAC system a smooth aluminum interior with an R-12 KoolDuct insulated value. By using phenolic materials in this application, the medical facility was able to see the following benefits at their new location.
Lower Embodied Carbon Materials – The use of Kingspan KoolDuct and phenolic fabrication practices allow for a reduced carbon HVAC system when compared to traditional metal and insulation alternatives.

Weather Resistant Cladding – Thermaround uses a 1000 micron vinyl cladding and Thermaduct's patented assembly process to offer extreme weather resistance with minimal seams.
Closed Cell, High R Value Insulation – Thermaround uses phenolic with greater than 90% closed cell content to allow for higher insulated values with less space required.
Low Leakage Flanged Connections – Thermaround is easy to install with our offset couplings and flanged connections. Available online training allows for installers to properly install these connections to reach between a SMACNA class 1 and class 3, depending on the static pressures.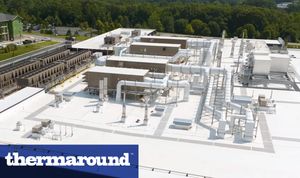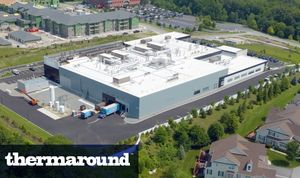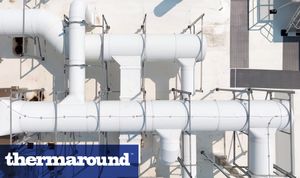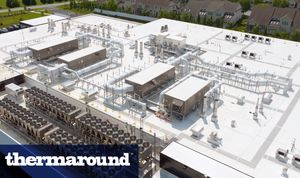 Lowering embodied carbon of HVAC systems is a growing conversation in the HVAC industry. With such a heavy dependence on high carbon producing materials such as rolled steel and glass insulation, ductwork has many times been left out of that conversation. In 2004 when phenolic materials entered the United States Market, a true low carbon alternative became available to contractors and building owners. This material offers less embodied carbon during manufacturing of the insulated panels and lower energy usage for fabrication into ductwork.
Nearly two decades ago, we recentered our shop around phenolic products to promote and develop this green HVAC technology. For more information on how you can find benefits for your next interior or exterior application with a Thermaduct system, contact us of talk to your local Thermaduct experts.

As energy codes push the required insulation values higher and higher, the need for better outdoor duct solutions is growing. Thermaduct products are designed to meet the needs of outdoor applications with a high level of energy and installation efficiency.

Low air leakage, IAQ duct solutions increase the energy efficiency and health of your building. Thermaduct is here to help. Our indoor products are lightweight solutions that reduce installation weight by over 70%.