How Government Facility Found IAQ Benefits with Thermaduct Outdoor Ductwork - Illinois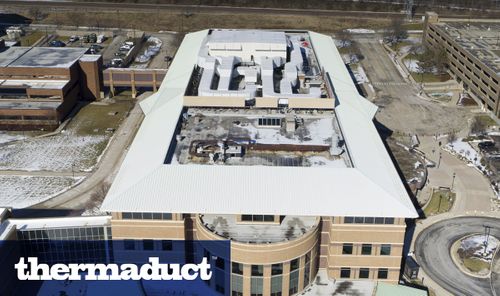 In late 2020 and into 2021, Thermaduct fabricator, Sheet Metal Werks, partnered with Hill Company to bring our outdoor rectangular system to a government facility installation in Dupage County, Illinois. Replacing their previous system because of concerns of air quality in the building, Thermaduct was chosen to provide a smooth aluminum, fiber free duct interior that does not support mold growth. With the large dimensions required to supply the building's HVAC needs, Thermaduct's pre-insulated lightweight nature drastically reduced the building loads on the project while providing an R-12 KoolDuct insulated value.
Working closely together, Sheet Metal Werks and Hill were able to prefabricate and minimize connections for field installation and allow for smooth crane lifts on the jobsite. This careful coordination made for each of the lifts to operate smoothly and minimized issues during the installation.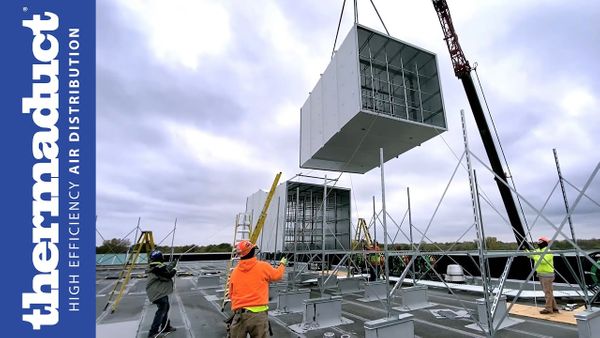 Pre-Insulated Outdoor Duct Installation - Thermaduct Exterior Duct Manufacturer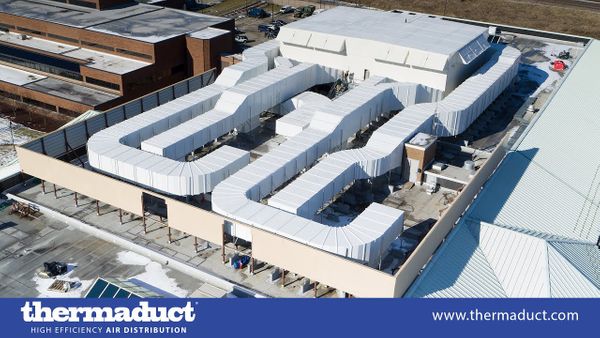 Outdoor Ductwork - Thermaduct Pre-Insulated Exterior Duct System
The benefits for this application include:
High IAQ Duct Solution - The UL181 KoolDuct's aluminum interior is free of loose fibers with the phenolic's facing able to pass UL's extensive mold growth test.
Lightweight – Thermaduct provides a lightweight alternative to sheet metal ductwork with up to a 50% reduction in weight. This reduces overall building loads and allows for easier installation in the field.
Weather Resistant Vinyl Cladding – Thermaduct is protected with a 1000 micron, UV stable vinyl cladding that is factory laminated onto every phenolic panel.
Ease of Installation – Thermaduct utilizes familiar 4-bolt flanged connections to ensure contractors will feel right at home installing our ductwork.
All-in-one Product – The Thermaduct rectangular duct system provided this application with duct, insulation and cladding all in one high efficiency outdoor product.

As energy codes push the required insulation values higher and higher, the need for better outdoor duct solutions is growing. Thermaduct products are designed to meet the needs of outdoor applications with a high level of energy and installation efficiency.

Low air leakage, IAQ duct solutions increase the energy efficiency and health of your building. Thermaduct is here to help. Our indoor products are lightweight solutions that reduce installation weight by over 70%.