WHY BOSTON HOTEL TURNED TO THERMAROUND AND THERMADUCT FOR HIGH EFFICIENCY OUTDOOR DUCTING NEEDS - MASSACHUSETTS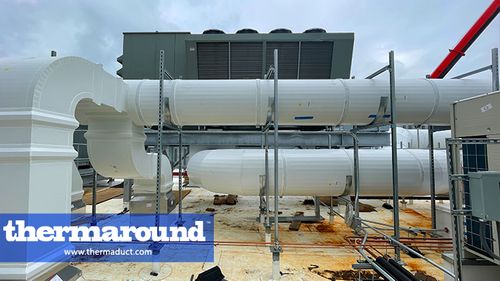 In 2021, construction was taking place on a new downtown Boston hotel. Located near the waterfront of Boston Harbor, this facility had a large portion of their HVAC system designed outdoors which allowed the ductwork to be exposed to the elements. To give their duct system high resistance to not only rain, snow and ice, but also any corrosion that may be experienced near the coast, vinyl cladded Thermaround and Thermaduct were chosen.
Providing the duct, insulation and cladding all in one high quality product, Thermaround and Thermaduct offered this application many benefits including higher insulated values and lower air leakage, protected by a corrosion resistant 1000 micron vinyl cladding.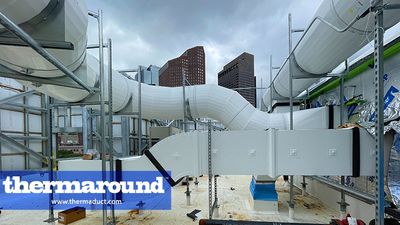 Thermaround Outdoor Ductwork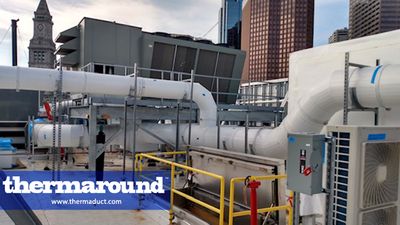 Thermaround Vinyl Cladded Duct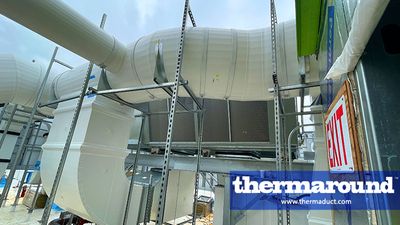 Pre-Insulated Round Outdoor Ductwork
Thermaround is a lightweight solution for applications that require insulated ductwork. Providing an R-12 insulated value and extremely low air leakage, this system provides an excellent weather resistant solution in a shape that's great for outdoors. Using factory laminated insulated phenolic panels paired with our patented forming processes, many applications have Thermaround sections with a continuous cladded surface with as few as one solvent welded seam.
For those looking for high efficiency duct systems, look no further than the Thermaduct family of products. To find out more about how you can use Thermaduct's outdoor systems including those for the indoors, talk to your local Thermaduct representative or contact us.

As energy codes push the required insulation values higher and higher, the need for better outdoor duct solutions is growing. Thermaduct products are designed to meet the needs of outdoor applications with a high level of energy and installation efficiency.

Low air leakage, IAQ duct solutions increase the energy efficiency and health of your building. Thermaduct is here to help. Our indoor products are lightweight solutions that reduce installation weight by over 70%.