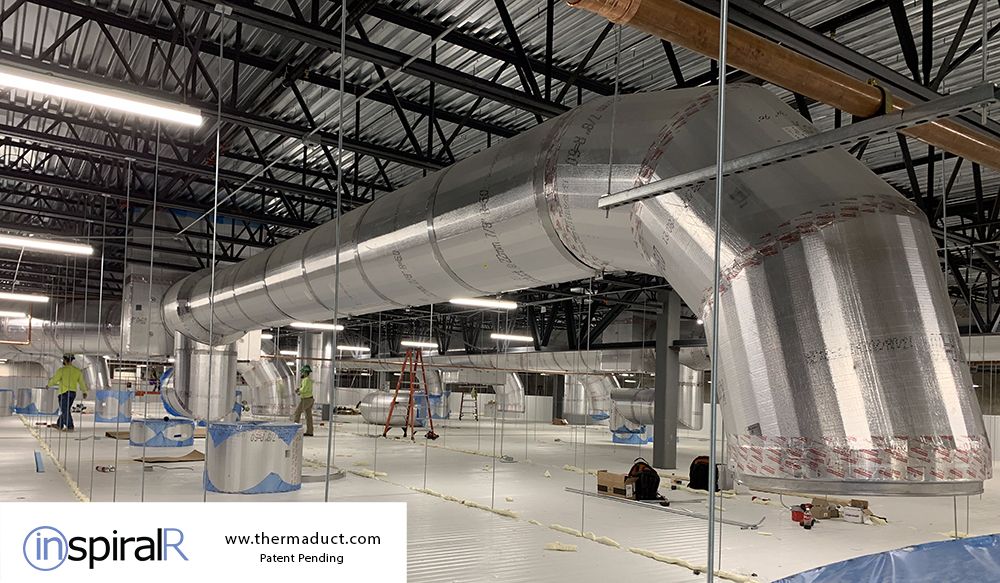 FOOD GRADE FACTORY EXPANSION SPIRAL DUCTWORK - PLYMOUTH, INDIANA
Plymouth, Indiana (December, 2019) - Thermaduct's InspiralR was recently chosen as the high efficiency ductwork for this Indiana Food Production Factory Expansion. This application utilized InspiralR with our patent-pending assembly process paired with food-grade lining, stainless steel couplings, and draw bands. This paired up nicely with rectangular Thermaduct on the outside of the building and Kingspan KoolDuct for the indoor rectangular duct.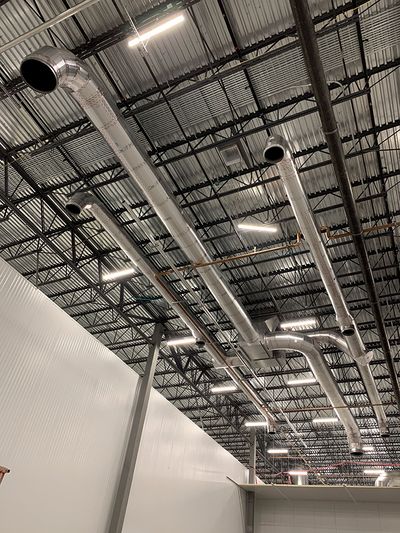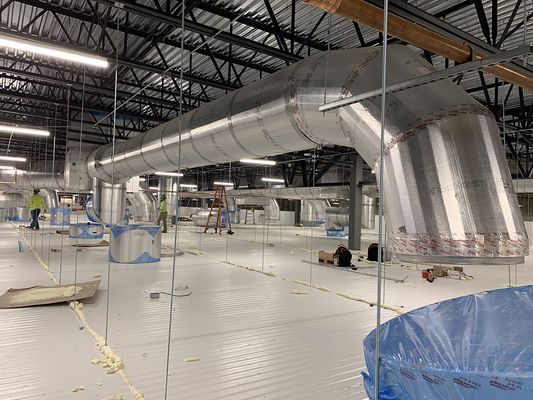 Installing Contractor, Morris Sheet Metal Corp, felt right at home installing the lightweight InspiralR ductwork in their factory application.
"This Thermaduct product was the perfect fit in our food production facility project. The food-grade liner solved the interior duct cleaning issues often associated with critical process areas. The round pipe installed quickly, and it was easy to hang and handle above the walkable ceiling. InspiralR is lightweight and eliminated the need for external duct insulation. We couldn't be happier with the finished product and the customer support team at Thermaduct." - Jason Robinson, Project Manager
The InspiralR provided a consistent R-6 insulated value in this application with minimal air leakage. InspiralR is UL 181 listed for 10" w.c. positive and 8" w.c. negative applications. This lightweight system can offer up to a 75% weight savings when compared to traditional double wall spiral ductwork.
For more information on how InspiralR can help provide a lightweight solution for your next application, talk to your local Thermaduct Representative or contact us.

As energy codes push the required insulation values higher and higher, the need for better outdoor duct solutions is growing. Thermaduct products are designed to meet the needs of outdoor applications with a high level of energy and installation efficiency.

Low air leakage, IAQ duct solutions increase the energy efficiency and health of your building. Thermaduct is here to help. Our indoor products are lightweight solutions that reduce installation weight by over 70%.