Outdoor Insulated Duct - How Indiana High School Natatorium Benefitted from the Thermaround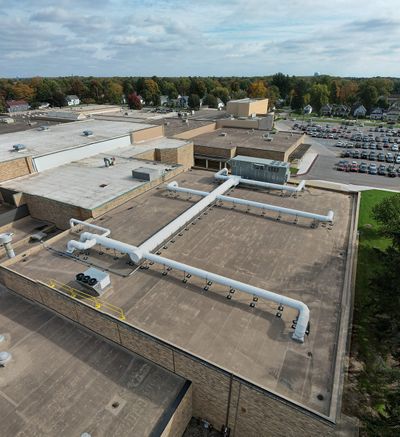 Thermaduct's award winning Thermaround system was recently chosen to supply this Indiana high school's insulated duct system for their 2023 natatorium installation. Partnering with our representatives at Elite Equipment and installer D.A. Dodd, Thermaround provided many benefits for the high humidity pool application to give them a high IAQ solution, long lasting installation.
Thermaround's benefits for pool applications -
Duct, Insulation and Cladding All-In-One Product
R12 Insulated Value
Fiber Free Smooth Aluminum KoolDuct Interior
1000 Micron, UV stable vinyl cladding
Round Shape Naturally Sheds Water and Snow
High Static Pressure Design
Easy to Install Flanged Connections
Online Installer Training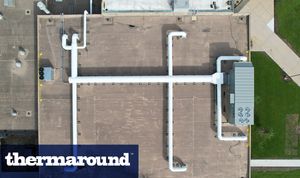 Thermaduct Round Exterior Ductwork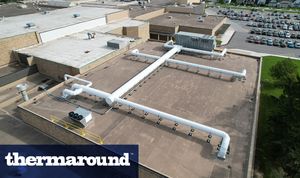 Thermaround Phenolic Duct System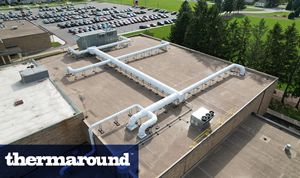 Exterior Rooftop Round Ductwork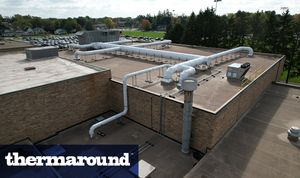 Thermaduct Rooftop System

As energy codes push the required insulation values higher and higher, the need for better outdoor duct solutions is growing. Thermaduct products are designed to meet the needs of outdoor applications with a high level of energy and installation efficiency.

Low air leakage, IAQ duct solutions increase the energy efficiency and health of your building. Thermaduct is here to help. Our indoor products are lightweight solutions that reduce installation weight by over 70%.