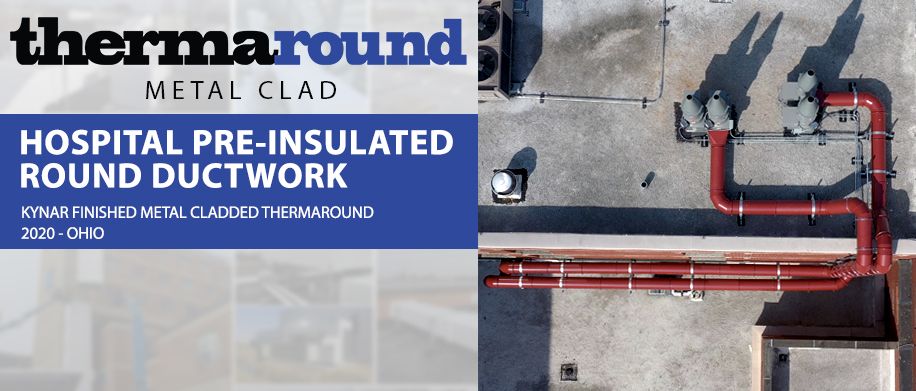 For applications where aesthetics are a key consideration in building design, HVAC systems are sometimes built into the finished look of the building. For these applications Thermaduct's new architectural cladded system provides more options for ductwork to match building facades.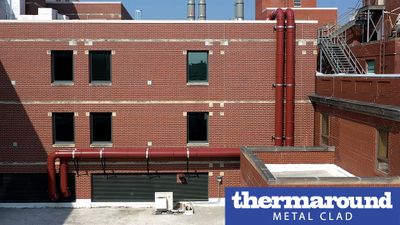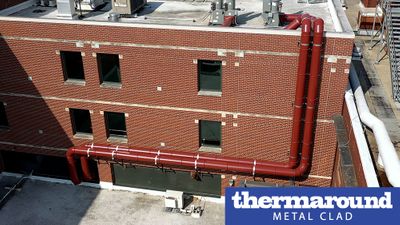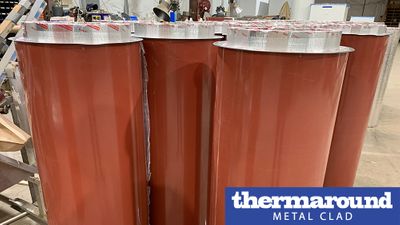 New Ductwork with a New Look
One hospital in Akron, Ohio had a unique installation that required round ductwork to be installed in a location that required the HVAC system to blend into its surroundings. Thermaround was the ductwork of choice, because of its pre-insulated smooth aluminum InspiralR interior (employing Kingspan KoolDuct), free of loose fibers to reach an R-12 insulated value. Because of the surroundings, a Kynar finished metal cladding was chosen with a Colonial Red color to closely match the brick, while still providing resistance to corrosion and weather in a shape that naturally sheds water.
Any applications where aesthetics are the primary concern, Thermaround Metal Clad takes the pre-insulated nature of our vinyl cladded system and packages it a protected metal finish to provide a duct system that is designed for aesthetics, but engineered for performance. For more information on how your building's design can benefit from a superior outdoor duct system, contact your local Thermaduct representative or contact us directly.

As energy codes push the required insulation values higher and higher, the need for better outdoor duct solutions is growing. Thermaduct products are designed to meet the needs of outdoor applications with a high level of energy and installation efficiency.

Low air leakage, IAQ duct solutions increase the energy efficiency and health of your building. Thermaduct is here to help. Our indoor products are lightweight solutions that reduce installation weight by over 70%.