Reducing Rooftop Building Loads with Thermaduct and Thermaround
Retrofitting a building's HVAC system can often bring additional considerations beyond the ductwork design and often requires creative solutions for both engineers and contractors. Additional weight load to the building structure may not be an option and challenging space requirements may also limit the design and installation of indoor and outdoor applications. For these installations, creativity and pre-planning go a long way for smooth installations that provide long lasting solutions.
In 2020, the DuPage County Courthouse in Wheaton, Illinois required the rooftop ductwork to be replaced. With indoor air quality and weight considerations being important factors for the installation, Chicago SMACNA contractor, Hill Group, began working to supply the application with a large amount of ductwork with the smallest amount of weight. Thermaduct Fabricator and SMACNA member, Sheet Metal Werks, partnered with Hill Group and Wight & Company to incorporate lightweight phenolic ductwork and provide an estimated weight savings of over 100,000 lbs. for the system.
Over 31,000 square feet of rectangular Thermaduct was chosen for the application. With a total of five lifts starting in October, the DuPage installation was a smooth process thanks to pre-planning and creative design choices by Sheet Metal Werks and Hill Group. Designated sections of ductwork implementing pre-set mounting points were able to lift in 16 and 20 foot lengths with the weather resistant connection coverings pre-installed to increase efficiency in the field. This allowed the team on sight to meet the demanding installation schedule for the project.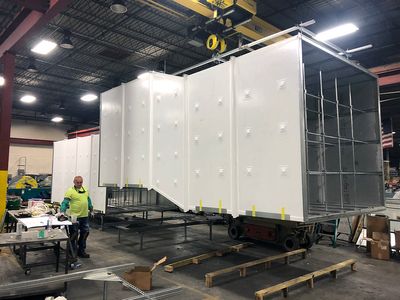 Thermaduct Duct Manufacturing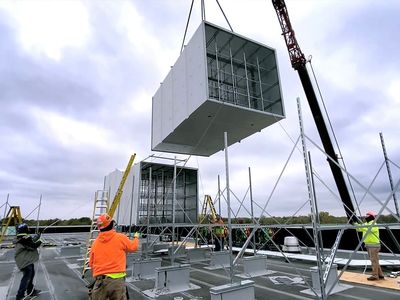 Outdoor Duct Installation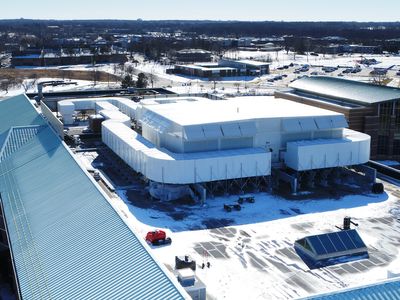 Exterior Duct for Government Buildings
"With the reduction in weight, we were able to lift more duct at once on the project. This saved time and allowed for fewer connections that needed to be installed in the field."
Kevin Ryan, President of Sheet Metal Werks.
Other applications have found additional weight savings with Thermaround, introduced into the market 2018. Because of the natural strength of the round shape and fewer dynamic loads experienced, reinforcement considerations are much less than our rectangular phenolic system. Because of this schools, hospitals and other medical facilities across the country have all found Thermaround to be a lightweight option that increases their indoor air quality.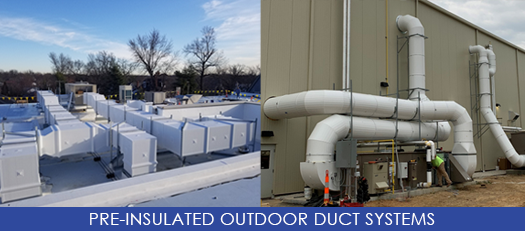 Benefits of Thermaduct & Thermaround
Duct, Insulation and Cladding all in one product
High R-Values: Thermaduct R8-R24, Thermaround R12
Low Air Leakage: Near zero air leakage for reduced energy usage
NFPA 90A Complaint: 25/50 flame and smoke spread per ASTM E84
Lightweight: Significantly lighter than traditional metal ductwork
10 Year Limited Warranty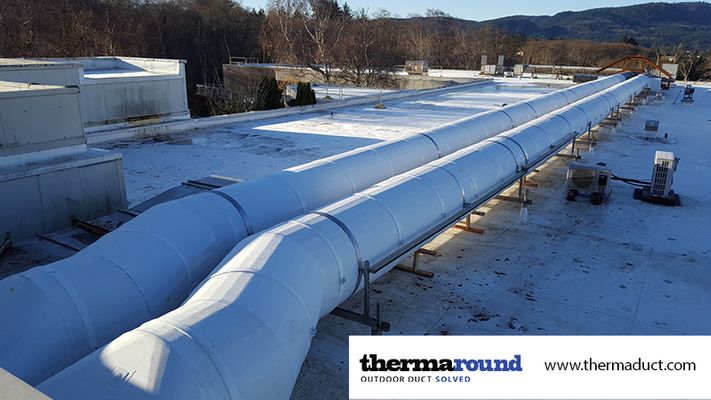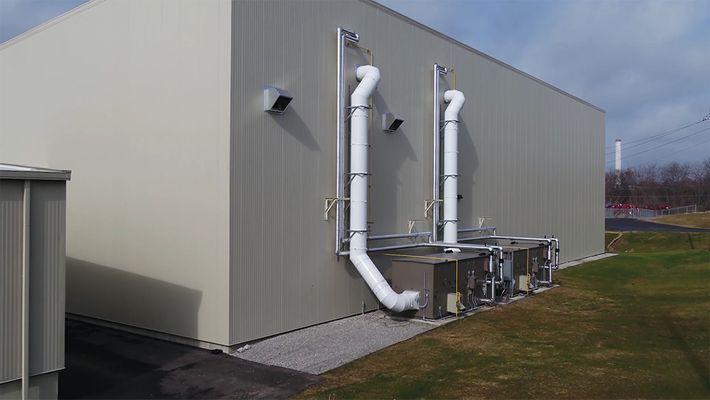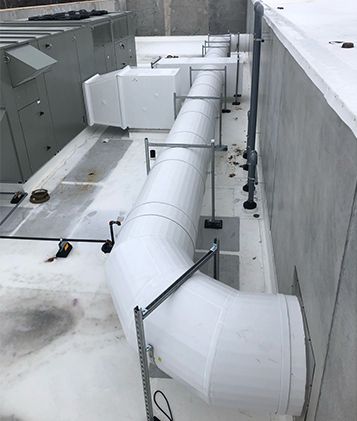 For applications where weight loads are a concern there is no better outdoor duct system than Thermaduct and Thermaround. Both systems provide the duct, insulation and cladding for high performance all-in-one duct systems. This allows for both rectangular and round duct systems with a substantial reduction in weight when compared to traditional metal ductwork. Indoor air quality is also improved with the UL 181 listed Kingspan KoolDuct aluminum interior surface that does not support mold growth. The benefits don't stop there, as the higher R values and lower air leakage of these products make for a higher efficiency air distribution system for long lasting savings for years to come.

As energy codes push the required insulation values higher and higher, the need for better outdoor duct solutions is growing. Thermaduct products are designed to meet the needs of outdoor applications with a high level of energy and installation efficiency.

Low air leakage, IAQ duct solutions increase the energy efficiency and health of your building. Thermaduct is here to help. Our indoor products are lightweight solutions that reduce installation weight by over 70%.