Design Solutions - Minnesota School Gives High Efficiency HVAC System School Spirit with Thermaround Architectural
In early 2022, this Minnesota school's equipment replacement gave the opportunity to not only upgrade their system's performance, but aesthetics as well. With large areas located outdoors and exposed to both the elements and visible site lines, architectural options were explored to allow their school colors to be used. Thermaround Architectural ductwork provided a solution with a Kynar finished exterior to give them exactly the look they were going for.
Royal Blue Thermaround Architectural ductwork was chosen to provide an R-12 insulated value without the need for fibrous interior liners or duct wraps that would cover their exterior finish. The two layers of our lightweight InspiralR flanged connection made installation easy for Minnesota Contractor, Bauernfeind Goedtel.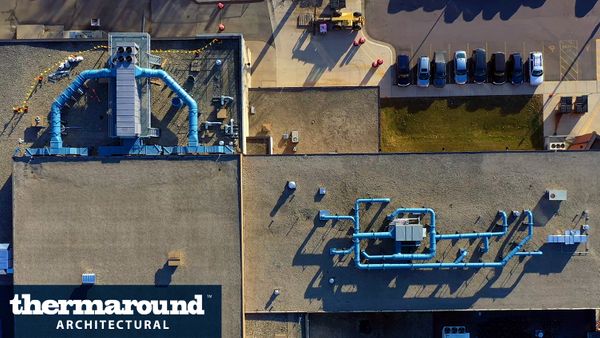 Customer Testimony - Theron Kruger, Project Manager at BG Companies
"Our installers really like the fact that it is lightweight and installs very easily compared to normal galvanized double wall. Our customers like the option of colors to help blend the product in with their buildings."
Thermaround Architectural Ductwork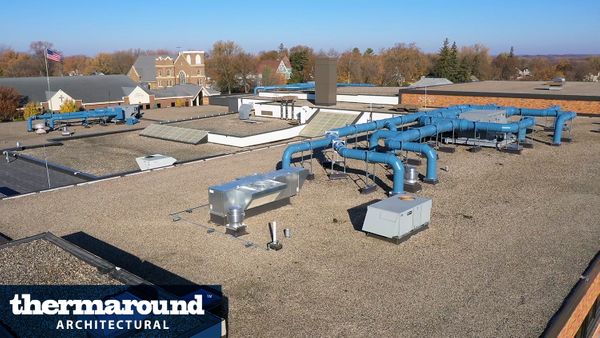 Metal Cladded Outdoor Phenolic Ductwork
For applications where duct system aesthetics play a key role in building design, look no further than Thermaround Architectural duct systems. With 24 available color options or paint grip galvanized (for those custom colors) we can assist you in selecting an efficient outdoor or indoor duct system that will blend into your building. To find out more about how you can use Thermaduct's line of pre-insulated phenolic duct systems, talk to your local Thermaduct representative or contact us.

As energy codes push the required insulation values higher and higher, the need for better outdoor duct solutions is growing. Thermaduct products are designed to meet the needs of outdoor applications with a high level of energy and installation efficiency.

Low air leakage, IAQ duct solutions increase the energy efficiency and health of your building. Thermaduct is here to help. Our indoor products are lightweight solutions that reduce installation weight by over 70%.