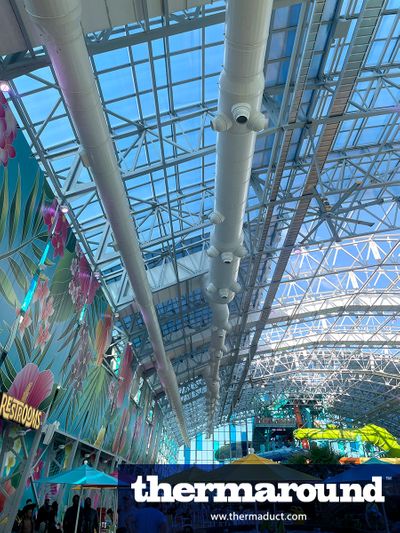 Lightweight Ductwork for Pool Applications – Thermaduct's Round Phenolic Ductwork
With an innovative facility that can convert to either an indoor and outdoor waterpark experience, this Alabama facility provides ample amounts family fun no matter the weather! A large 100,000 square foot building features a lazy river, wave pool and multiple waterslides, including some up to 75 feet tall, all covered by a retractable roof! To ensure swimmers would be comfortable indoors, but still be able to handle the outdoor elements, Thermaround was chosen to distribute air throughout the building.
Over 55,000 square feet of vinyl cladded Thermaround was installed on this application both inside the pool facility and on the exterior, providing an installed R-6 value indoors and installed R-12 value outdoors. Our system was chosen over other alternatives in order reduce the weight of the installation for structural considerations of the facility, but still provide a solid structure that would not be affected by wind when building's roof was open. With the airflow requirements, Thermaround's high static pressure design was able to ensure any swimmers would be comfortable throughtout the facility.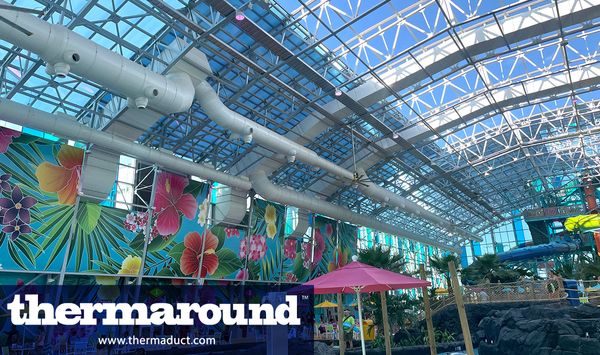 Thermaround contains closed cell phenolic insulation with a smooth aluminum interior, free of loose fibers, to provide an excellent pre-insulated option for high humidity environments. This is protected with a 1000 micron, UV stable vinyl shell that is factory laminated onto the panel. Flanged connections with barrel connectors made installation of our round system fast and familiar.
For more information on how Thermaduct and Thermaround can provide a lightweight, fiber free and corrosion resistant solution for your application, talk to your local Thermaduct representative or call 855-809-6903.

As energy codes push the required insulation values higher and higher, the need for better outdoor duct solutions is growing. Thermaduct products are designed to meet the needs of outdoor applications with a high level of energy and installation efficiency.

Low air leakage, IAQ duct solutions increase the energy efficiency and health of your building. Thermaduct is here to help. Our indoor products are lightweight solutions that reduce installation weight by over 70%.