InspiralR Spiral Ductwork Chosen for Second Installation at Food Grade Facility Expansion
In their second phase of construction, a food grade facility in Plymouth, Indiana chose InspiralR to provide their duct system above their production area. For their second installation, this application again utilized this round phenolic system with our patent-pending assembly process paired with food-grade lining, stainless steel couplings, and draw bands.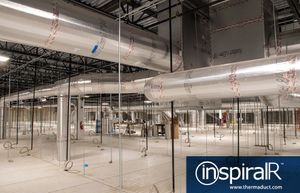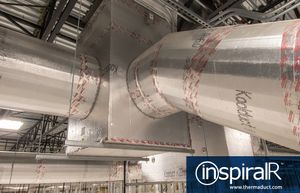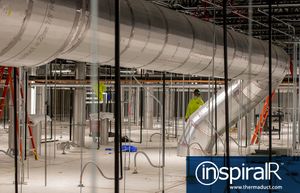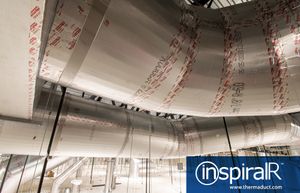 Partnering again with Morris Sheet Metal, who did the original installation, the second phase benefitted from their experience with the product. Knowing how to use the weight savings to install efficiently allowed the team at Morris to install the ductwork above a walkable ceiling and service multiple production areas.
"InspiralR's lined product is not only fast and easy to work with but it also provided the security and confidence to our customers that sterilization of their system is easy to maintain. Morris Sheet Metal definitely would recommend this product to customers looking for sanitary, food grade application above walkable ceilings." said Jason Robinson, Project Manager at Morris Sheet Metal.
While not an exposed duct application, InspiralR provided a clean looking installation above the facility's production area ceiling.
InspiralR provided this application with many benefits:
High Insulated Value – high pre-insulated values provide a consistent R6 insulated value without the need for open cell, fibrous liners.
UL 181 Listed System – Excellent Flame and Smoke Spread performance that meets the 25/50 per ASTM E84 requirements for UL 181 and NFPA 90a.
Low Air Leakage – InspiralR and Floval are extremely air tight. Easily achieve between a SMACNA Class 1 and Class 3 leakage rating.
Weight Savings – InspiralR and Floval can provide up to a 75% reduction in weight compared to traditional double wall spiral ductwork. This can have a drastic effect on building loads for complete installations.

As energy codes push the required insulation values higher and higher, the need for better outdoor duct solutions is growing. Thermaduct products are designed to meet the needs of outdoor applications with a high level of energy and installation efficiency.

Low air leakage, IAQ duct solutions increase the energy efficiency and health of your building. Thermaduct is here to help. Our indoor products are lightweight solutions that reduce installation weight by over 70%.