Exposed Ductwork  - How Ohio School Gave Their Exposed Insulated Ductwork a Clean Look In Cafeteria Renovation with InspiralR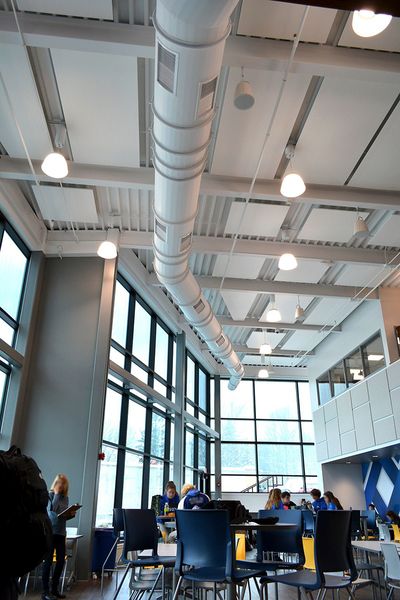 Thermaduct's InspiralR system was chosen for the 2022 expansion of Cuyahoga Christian Academy near Cleveland, Ohio. The additional space added included a renovated cafeteria with ample space for the growing school. With a larger area to heat and cool, Kidron Electric and Thermaduct representative, Air Control Products, provided the school with an alternative to spiral ductwork with InspiralR.
With the exposed nature of the system, the paintable InspiralR aluminum exterior was utilized to closely blend into the new open area of the school. Kidron Electric painted their InspiralR before it was installed, including the flanged connection and barrel connectors, to save time once installation began. The finished result was an insulated duct system with a fiber free interior and clean, white finish that aesthetically compares to the look of any traditional insulated ductwork. The installed InspiralR provided the school with an R-6 insulated duct, extremely low air leakage and a drastic reduction in weight.
Painted or unpainted, InspiralR and our flat oval system, Floval, can provide your next application with high efficiency air distribution. Find out more about how Thermaduct's lightweight systems can be a low embodied carbon solution for your exposed duct applications.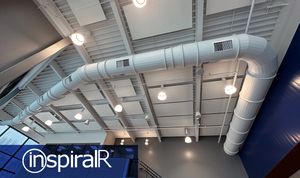 Low Carbon Duct System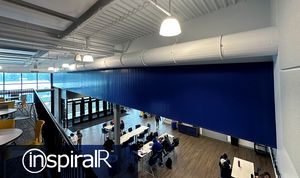 Phenolic Pre-Insulated Ductwork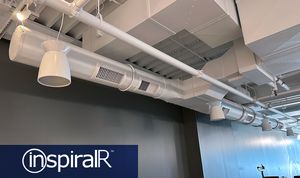 Painted InspiralR Ductwork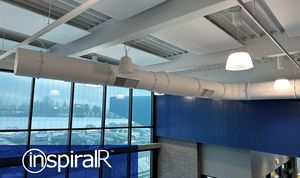 Exposed Insulated Duct

As energy codes push the required insulation values higher and higher, the need for better outdoor duct solutions is growing. Thermaduct products are designed to meet the needs of outdoor applications with a high level of energy and installation efficiency.

Low air leakage, IAQ duct solutions increase the energy efficiency and health of your building. Thermaduct is here to help. Our indoor products are lightweight solutions that reduce installation weight by over 70%.