Project Planning: 5 Considerations for Efficient Outdoor HVAC Applications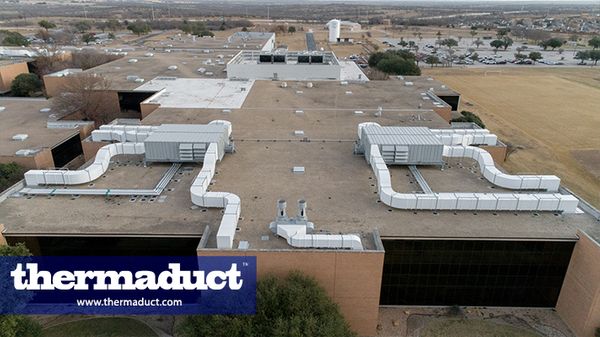 In rooftops across the country, application requirements often times require duct systems to be installed outdoors. These installations require special considerations that interior ductwork may not require. Whether your application uses traditional metal ductwork or a pre-insulated product, planning ahead for your application can lead to fewer headaches down the line.
Here are a few questions you should ask yourself before your installation begins.
1) REGIONAL CONSIDERATIONS – DOES MY HVAC SYSTEM MEET THE ENERGY CODE REQUIREMENTS & SNOW ACCUMULATION ZONE FOR MY AREA?
Different climates around the country may require higher or lower R-values to meet their local and state energy code requirements. What insulated value does your system need to meet? Will this resistance to heat loss increase dynamic loads, such as snow and ice accumulation, on your exterior ductwork? Preparing for regional weather conditions can set a great foundation for a long lasting installation.
2) MATERIAL SAFETY CHOICES – IS MY HVAC SYSTEM SAFE FOR THE OCCUPANTS IN MY BUILDING?
There are many options for building owners and engineer to choose from for exterior ductwork, but important code requirements should apply no matter what duct system is used. Is your duct system constructed to the appropriate SMACNA standards? Does your duct and insulation meet National Fire Protection Association's 90A 25/50 flame and smoke spread requirements? If my insulation is inside the duct, is any entering the airstream? Ensuring your installation is constructed properly is important for the health and safety of your building.
3) PROTECTION FROM THE ELEMENTS – WILL MY DUCT SYSTEM LAST IN THE OUTDOORS?
It's not just about having a high insulated value…. your HVAC system needs to be protected from whatever nature will throw at it! A strong cladding is your primary line of defense for the elements and often brings with it several choices. How thick of protection do you need? How is it applied on the jobsite? Is it easy to install? These are all important questions that may play a role in your outdoor ductwork choice.
4) THE STATE OF THE APPLICATION - CAN YOUR BUILDING HANDLE ADDITIONAL WEIGHT LOADS?
Changing a system's design after the fact may also affect the weight loads applied to the building. This can be for many reasons, such as opening more space on the interior or building expansion. For older applications, weight restrictions on the structure may be the deciding factor on changes made as the new weight of additional duct, insulation and cladding can add up fast!
5) LONG TERM EFFICIENCY – CAN I DECREASE MY BUILDING'S ENERGY USAGE?
Often times high efficiency air handling units and equipment are the focus of an HVAC system with little attention given to air distribution. What is the air leakage rate of your system? Is the duct well insulated and protected from thermal transfer? Over the life of your building, these are factors that can have long term effects on energy bills going forward and may be worth looking into a "greener" foundation for your HVAC system.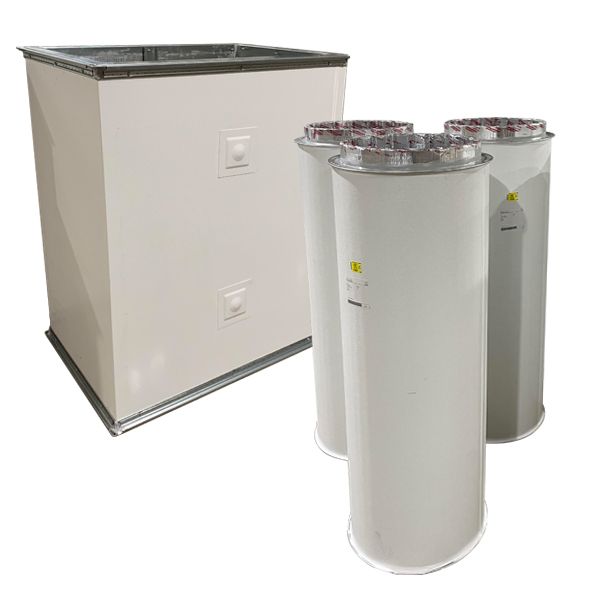 Starting with the right information can keep your project moving smoothly
Making educated choices for your exterior duct system can save you headaches down the road. We are here to help! With nearly two decades of phenolic ductwork experience, Thermaduct can help select the pre-insulated system that will benefit your application.
If you find yourself wanting to increase the efficiency of your duct systems, both indoor and out, talk to your Local Thermaduct Expert or Contact Us to help you develop a plan for your building.

As energy codes push the required insulation values higher and higher, the need for better outdoor duct solutions is growing. Thermaduct products are designed to meet the needs of outdoor applications with a high level of energy and installation efficiency.

Low air leakage, IAQ duct solutions increase the energy efficiency and health of your building. Thermaduct is here to help. Our indoor products are lightweight solutions that reduce installation weight by over 70%.