Theatres have been hit hard, but the show must go on
As the world begins to reopen, indoor venues such as the entertainment industry have been some of the hardest hit sectors in the ongoing pandemic. Many theatres, whether their show is on a screen or stage, have had to take steps to ensure the safety and comfort of their audience who may be venturing out for the first time. HVAC systems play a prominent role in this with more air circulation through ventilation and filtration to improve the indoor air quality of these indoor environments.
When adding additional systems to the roof, applications such as this theatre in Chicago, Illinois have used Thermaduct and Thermaround to give their outdoor ductwork a weather resistant vinyl cladding, higher pre-insulated thermal values that require no additional wrapping or treatment, and an aluminum Kingspan KoolDuct interior that does not support mold or bacteria growth. These products designed for the outdoors have increased efficiency over traditional metal ductwork and truly give customers a duct, insulation in cladding all in one product.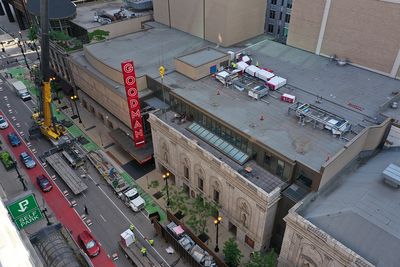 Theatre Outdoor Ductwork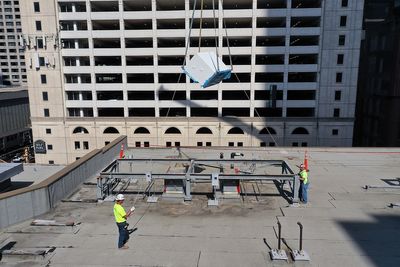 Ductwork Improving Indoor Air Quality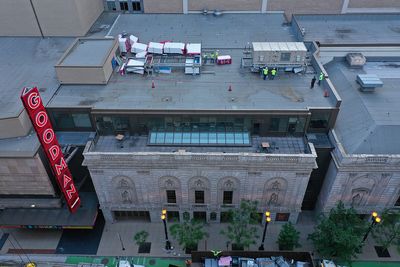 Non-fibrous Pre-Insulated Ductwork
Thermaduct Product Benefits for Indoor Entertainment Environments
Weather Resistant Cladding Designed for the Elements
Our outdoor products, Thermaduct and Thermaround, use a patented 1000 micron, UV stable vinyl that is factory laminated to our phenolic panel. This allows us to minimize areas for water intrusion using solvent welds that keep the conditioned air in and the outdoor elements out!
NFPA 90A Compliant Duct System – 25/50 Duct & Insulation Per ASTM E84
All of our products use UL 181 listed Kingspan KoolDuct phenolic panels in the construction of our patented & patent pending systems. Part of the UL 181 testing criteria is passing capability of meeting a 25/50 flame and smoke spread tested by the Steiner Tunnel Test (ASTM E84). Because of this, Thermaduct systems meet the requirements for NFPA 90A, which requires duct, insulation, adhesives, fasteners, tapes and supplementary materials to meet this 25/50 standard.
Phenolic Acoustical Performance – A Mold Resistant Approach to HVAC Sound Reduction
While often compared to acoustical performance of fibrous insulations, Thermaduct and Thermaround both provide duct solutions with minimal acoustical concerns. When compared to a metal duct, these systems do not have expansion, reverberation or flagging that create common noise inside of a duct system. Take a look at this video to see how our material compares in alleviating acoustical issues without the fear of loose fibers entering your air stream.
High Efficiency Duct with Lower Air Leakage
Thermaduct systems can reduce energy costs associated with running your HVAC system by providing air leakage rates that are a fraction of those of traditional metal ductwork. Depending on the pressure class, our outdoor systems can provide between a SMACNA Class 1 and Class 3 leakage rating.
Better Air Quality, Better Efficiency
Thermaduct and Thermaround provide the absolute best efficient, weather resistant outdoor ductwork on the market. With high R-values, Low air leakage, strong outdoor cladding and an interior that does not support mold growth, these pre-insulated systems offer many great benefits for indoor entertainment environments. With many new obstacles facing theatres, Thermaduct can help take headaches away from adding additional HVAC to your building. Whether you have the space to keep your ductwork indoors or need to move things to your roof, Thermaduct or your Local Thermaduct Expert can help you navigate your project so you can bet back to focusing on your audience.

As energy codes push the required insulation values higher and higher, the need for better outdoor duct solutions is growing. Thermaduct products are designed to meet the needs of outdoor applications with a high level of energy and installation efficiency.

Low air leakage, IAQ duct solutions increase the energy efficiency and health of your building. Thermaduct is here to help. Our indoor products are lightweight solutions that reduce installation weight by over 70%.